Arcane Sun
Doom/Death / Co. Dublin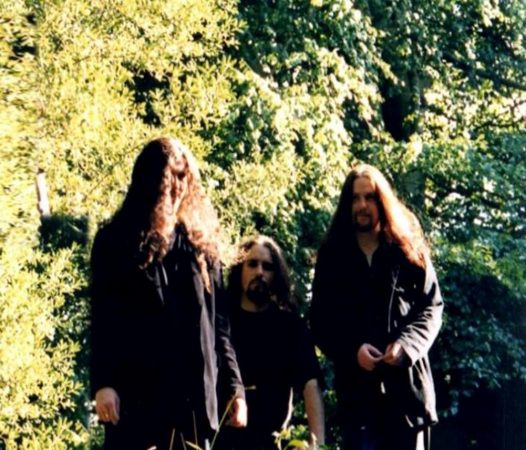 Links
ARCANE SUN began almost immediately after Paul and Steo's previous band, FIFTH DOMINION, came to an end in 1994. Opting to go in a more Doom/Death direction they continued on gigging as THE FIFTH DOMINION. Similar in name only, but I've been assured by both Robin Bailey and Paul that it should be regarded as a completely different band. PRIMORDIAL's Feargal Flannery joined on guitars along with Brian Carroll and Cory Sloan joined on bass. By early 1995 rehearsals were well under way and by June of that year they were supporting ANATHEMA. And by the end of the summer had recorded the 4-track 'Towards Elyzium' demo. It wouldn't be until after it's release that they finally settled on the new name of ARCANE SUN.
Roll on 1996 and the band were back in Kildare's Poppyhill Studios and with the added assistance of Emmett Rees (LUNAR GATE) the "Eden Eclipsed" Promo was committed to tape. Containing two new tracks and a re-recording of one of the previous demo tracks, although only the two new tracks were listed on the promos inlay. It was after this recording that the band was signed to German label Ars Metalli, but by the time the promo tape was officially released, Steo had left the band and was replaced by Mark Higgins. And sometime after it's release Cory Sloan had left the band too.
The band put their heads down for 1997 with gigging, writing and preparing for their debut full-length which was recorded in early 1998 again in Poppyhill Studios. Recording was finished on  Valentine's day 1998 but once again the bands line-up suffered a set-back with Brian Carroll leaving the band soon after the albums recording and was eventually replaced by Joe Haughey. Although Brian is credited for some recording on the album, all bass, keyboards and most of the guitars were handled by Feargal.
The album was due to be released the following June, but there was problems with the cover artwork and by the time a new layout and photos were done it wasn't until October that the self-titled "Arcane Sun" was finally released in Europe. The album received brilliant reviews across the board from the metal communities. Ranging from outright vicious Death Metal to the most simple, emotive and melodic acoustic passages. A superb album from start to finish and easily a contender for one of the best Irish Metal albums ever. I honestly can't recommend it enough. It's just that fucking good…!!!
Everything seemed to be going well for the band and soon came the time for album number two. Due to be called "Fade : A Soundtrack For The Arcane", recording began and the album was mostly completed but the bands label, Ars Metalli, went bust and couldn't pay for it so it was never mastered and left in limbo. Unfortunately this was pretty much the death knell for this great band and they eventually split. Even though the album has remained un-mastered after all these years, Feargal and Paul have been good enough to allow me to upload it here for all to check out. It really is a shame that the album was never fully completed and released as there's a marked progression from the previous debut album with the band exploring more progressive and unconventional avenues with their music. They obviously had the potential to go on and offer a lot more.
Members (Current)
Paul Kearns - Vocals
Feargal Flannery - Guitars/Bass/Keyboards
Mark Higgins - Drums
Members (Former)
Brian Carroll - Guitar
Joe Haughey - Guitar
Aaron Murphy - Guitar
Cory Sloan - Bass
Stephen Norton - Drums
Emmett Rees - Keyboards [Session]
Ciáran MacUiliam - Guitars [Live]
Adrian Butler - Bass [Live]