Fifth Dominion
Death Metal / Co. Dublin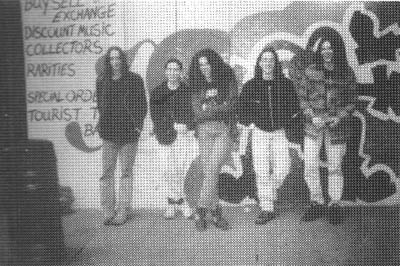 Links
Originally started out in February 1991 going be the name MISANTHROPY and played a brutal style of Technical Death Metal. They were regulars on the early 1990's gigging scene in Dublin and also made a few trips further afield around the country regularly sharing the stage with other notable Irish bands at the time such as FORSAKEN/PRIMORDIAL, MINAS TIRITH/CRUACHAN, MORPHOSIS, SYNAPSE, AFTERLIFE, SEPTIC SNAILS among many others.
The original line-up of Dave McKeever (Vocals/Guitar), Robin Bailey (Guitar), Stephen Norton (Drums) and Wayne Clifford (Bass) with Simon Fitzpatrick (Keyboards) recorded the 'Bruised Opinion' demo in April-May of 1992 and initially released it as MISANTHROPY. However in July of that year they were approached by the French band MISANTHROPE who owned the copyright to all forms of that name, so Rob came up with the name FIFTH DOMINION while reading a Clive Barker novel and subsequently amended and re-packaged the demo's cover art to reflect the new moniker.
Also! In August of 1992 Wayne Clifford was asked to leave the band and it was also around this point that Paul Kearns joined as a second vocalist. Then in January of 1993 David Knott was enlisted on bass and the band then went on to record their second demo 'Pain, Rage & Laughter' the following April.
Both demos are very highly regarded in the Irish Underground scene and display a band that could write excellent Death Metal which was quite an achievement given that the Irish Scene at the time was still struggling to be fairly recognised. Given the proper breaks FIFTH DOMINION could have easily gone on to rival any similar styled internationally established bands doing the rounds at the time. Both Robin and Paul have been good enough to give me permission to upload both demos for everyone to have a listen and download for FREE. Robin has provided excellent quality copies of both demos with the 'Pain, Rage & Laughter' version being made from the master tapes, so this is as good as it gets folks! Check them out on the embedded players below.
They distributed numerous copies of both demos! Had tracks featured on a few compilation tapes, such as the Irish Underground compilation tapes 'In Gods Own Image – Vol.1 (1993)' and 'A Compilation Of Nursery Rhymes In A Minor (1992)'. Were featured and interviewed on numerous Fanzines from all around the world. And they were also featured on then recently started TERRORIZER magazine where their 'Pain, Rage & Laughter' demo received a 3.5/5 review. And even had tracks from the demo played Ireland's national radio station, 2FM.
In 1994 after bassist David Knott jumped ship the band recorded the 3-track 'Promo 1994' with Robin handling both guitar and bass duties. But the band weren't satisfied with the end results and the 'Promo 1994' recording was never officially released and pretty much remained locked away for the last 18 years. But thanks again to both Robin and Paul, it's finally been dusted off and they've allowed me to upload it here for all to listen.
There was some label interest in the band but it wasn't enough to keep them going and in 1994 the band essentially split after the 'Promo 1994' recordings. There were attempts to try and salvage the band with Paul and Steo continuing on amid various line-up changes which included Brian Carroll (Guitar), Feargal Flannery (Guitar) and Corey Sloan (Bass) joining the ranks, but this was essentially the line-up that became the very different Doom/Death styled band THE FIFTH DOMINION. Similar in name only, but I've been assured by both Robin and Paul that it should be regarded as a completely different band and is in fact the precursor to what would eventually become the equally legendary and respected ARCANE SUN.
Genres
Death Metal, Technical Death Metal
Members (Current)
David McKeever - Vocals/Guitar/Keyboards
Robin Bailey - Guitar/Bass
Stephen Norton - Drums
Paul Kearns - Vocals
Members (Former)
David Knott - Bass
Wayne Clifford - Bass
Simon Fitzpatrick - Keyboards