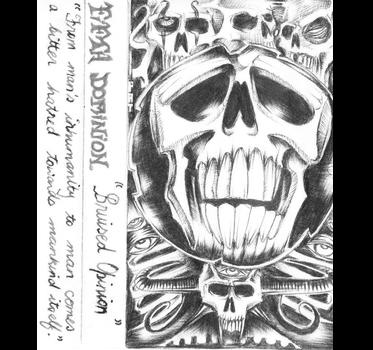 We're currently working on restoring the stream for this release. Please check back soon.
TRACK LISTING ;
1. Intro
2. The Price Is Life
3. Prisoners Of War
4. Sentenced To Die
5. Hatred Of Mankind
This demo was originally released as MISANTHROPY around June 1992. However in July of that year they were approached by the French band MISANTHROPE who owned the copyright to all forms of that name, so Rob came up with the name FIFTH DOMINION while reading a Clive Barker novel and subsequently amended and re-packaged the demos cover art to reflect the new moniker.
Thanks to Robin Bailey for giving me permission to upload the demo to the Archive.
……………………………………………………………………………..
Recorded, Mixed and Engineered by Eugene Ryder, Alan (not Averill)
and MISANTHROPY/FIFTH DOMINION at Elektra Studios, Dublin
on 11-12th April 1992. Re-mixed on 1st May 1992.
Vocals/Guitar – David McKeever (Misanthropy)
Guitar – Robin Bailey (Misanthropy, Thy Sinister Bloom)
Drums – Stephen Norton (Misanthropy, Arcane Sun)
Bass – Wayne Clifford
Keyboards – Simon Fitzpatrick