Sorrow Zine – Issue No.1 (May 1994)
Originall Published: 1994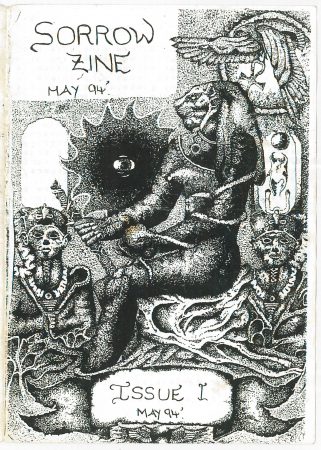 Editor Notes:
DIY Fanzine by Leon Rossiter.
"Sorrow Zine" – Issue No.1 (May 1994)
Old-School fanzine from May 1994 compiled by Jason and Leon with contributions from Brian Taube.
A mix of typed and hand written content, with deadly cover artwork by Jeff O'Reilly.
Featuring interviews and reviews from Irish acts…
DOOMSGAME, GROWTATION, PRIMORDIAL, CRUACHAN, PUTREFY, MORPHOSIS, FIFTH DOMINION, AFTERLIFE, ETHEREAL.
As well as international acts…
THE REIGN, BENEDICTION,  MORSTICE, CYNIC, VITAL REMAINS, MY DYING BRIDE, GOMORRAH…
---