Morphosis
Death Metal / Co. Dublin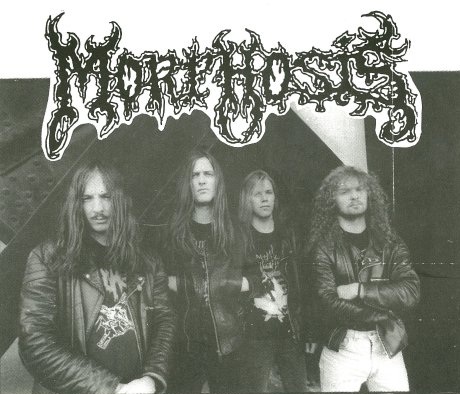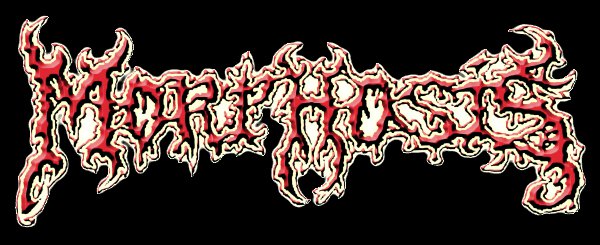 Links
One of the longest running bands in the scene, MORPHOSIS are a bonifide Irish Metal Institution. Since the mid 1980's Vinnie and George have been playing together. Before I even knew of any Irish metal bands they were tearing a hole in the fabric of Dublin's reality with ASPHYXIA and MORPHOSIS. Originally formed in 1986 by Vinnie and George they called themselves ASPHYXIA. Paul Marten was also an original member, but as a guitarist. He left early on only to return to the MORPHOSIS line-up a few years later as the bands vocalist. It wouldn't be until 1990 that they would release their first 'Conflagration' demo, with the line-up completed by Eamonn Farrell and Norman Hunt on guitars and drums respectively. One of the first, if not THE first Irish Death Metal release. Roll on a couple of more years and they've changed their name to MORPHOSIS with Pete Richardson being taken on as the new vocalist. A Promo recording was made during August 1992 purely for pre-production purposes which consisted of one track which was untitled on the promo itself, but is in fact a re-recording of 'Conflagration' from their previous ASPHYXIA demo of the same name. By the following year both Farrell and Hunt are out, leaving Vinnie as the sole guitarist and Pete Murray is brought in on drums.
It was this line-up that recorded 'Modus Operandi' in 1993, their first official demo as MORPHOSIS. But more line-up changes soon followed when George decided to step down, playing his last gig in Dublin's Rock Garden on 9th October 1993. The gig was recorded and is available to stream/download below. Pete Brady stepped into George's role on bass and Paul Marten returned to the fold  replacing Richardson on vocals. It was this line-up that recorded and released the 'Malicious Malfiguration' demo in 1995. Then it all went quiet for the band for a few years. There were plans to release their debut album to be called 'Shred' back in 2000/01 through Ireland'sINVICTUS PRODUCTIONS, which would have consisted of re-mixes and re-masters of earlier demo tracks but it all fell through and the band remained in limbo. However one of the intended 'Shred' remixes did appear on theSENTINEL RECORDS Irish Metal compilation album 'In Unison'.
Come 2005! Vinnie and George had resurrected the band and plans were made to finally release their long delayed debut album. Sam Lambert occupied the drum stool and Darren Moore (MOURNING BELOVETH, KARNAYNA)stepped up to the mic for a period to help the band get things rolling again, but soon after handed vocal duties over to Karl 'Squelch' Walsh who was announced as the bands full-time vocalist. The 3-track 'Promo 2006' CD was made available consisting of another re-mixed demo track originally intended for the failed 'Shred' album and two pre-production re-recordings of tracks from the earlier previously released demos, one with Squelch and one with Darren on vocals. This was to be the only official release that Darren made with the band. The 10 track 'Rise Of The Bastard Deities' album was finally released in 2009 through Dublin's SENTINEL RECORDS.
Not long after the band found themselves without a drummer yet again. Jay Connolly initially filled in for the bands live commitments and was latter announced as their full-time drummer. However it was short-lived as the spot was vacant again the following year. Sam returned to give the band a dig out for some live shows and eventually Andy Kavanagh (LAST JUDGEMENT) was taken on as the new MORPHOSIS drummer. Come 2011 more line-up problems surfaced with Squelch leaving. A search for a new vocalist began but by the end of 2011 Vinnie and George decided to finally close the door on the band. They are both currently working at forming a new band/project with rehearsals starting in April 2012, so fingers crossed it will all work out for them and they'll be back with a new re-vamped metal assault.
Thanks a million to Vinnie for being good enough to allow me upload all their old demos. All three early demos are huge milestones in the Irish Metal Scene and should not be left fall into obscurity. They are all available below to stream and download for free, along with the 1992 Pre-Production Promo, a live recording from Dublin's Rock Garden from 1993, and their 'Promo 2006'. Check them all out in the embedded players or from the Archive's Bandcamp.
Members (Current)
Vinnie O'Brien - Guitars
David "George" Thomas - Vocals/Bass
Karl "Squelch" Walsh - Vocals
Andy Kavanagh - Drums
Members (Former)
Pete Brady - Bass
Eamonn Farrell - Guitars
Kevin Cook - Guitars
Norman Hunt - Drums
Jason Connolly - Drums
Sam Lambert - Drums
Pete Murray - Drums
Glenn O'Rourke - Drums
Pete Richardson - Vocals
Paul Marten - Guitars [Asphyxia]
Paul Marten - Vocals [Morphosis]
Darren Moore - Vocals
Lar Fraser - Vocals [Asphyxia]
Ed Davidson - Drums [Asphyxia]
Conor Divine - Vocals [Asphyxia]