Invictus Newsletter – No.3 (Feb-Mar 2000)
Originall Published: 2000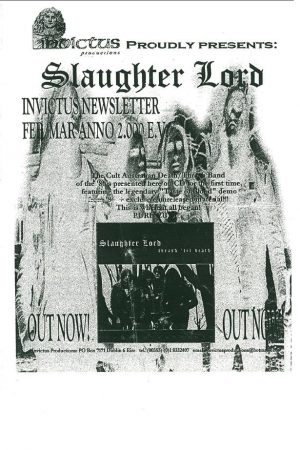 "Invictus Newsletter" – No.3 (Feb-Mar 2000)
Mailorder & Newsletter compiled and distributed by Darragh O'Laoghaire (VIRCOLAC, SOL AXIS).
Pics aren't the best quality, but it's still quite readable.
Features a blast of news, reviews and updates from the time which includes SLAUGHTER LORD, SOLSTICE, CEREMONY & DISMEMBER.
As well as an "IRISH NEWS" section which includes… PRIMORDIAL, MAEL MORDHA, WAYLANDER, ARCANE SUN, REVILE, MORPHOSIS, KINGDOM & CRUACHAN.
---