Revile
Post Rock/Metal / Co. Dublin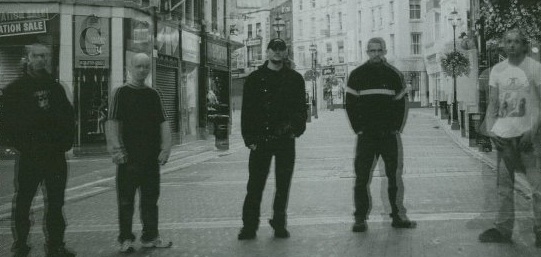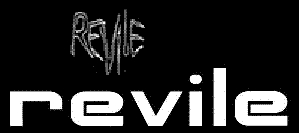 Links
REVILE were a 5 piece rock band from Dublin who originally started out as a Thrash band in the late 1990's and mainly gigged around the Dublin area. Mixing solid thrash riffs and some melodic lead guitar with shouty hardcore style vocals it didn't take them long to get their first 4-track "Demo 1999" together. During October of the following year they were back in the studio again to record another 4-tracks for their second "Demo 2000". Both demos were distributed at the bands gigs.
By 2002 Kieran McDonnell was out and had been replaced on vocals by Andy O'Toole. Not content with continuing to play the style of Thrash as on their previous two demos the band set about finding their own identity. Instead of going straight into recording another CD they instead focused on writing and recording tracks one at a time. The first of these 1-track promo recordings was 2002's 'Fists Of Steel'. It retained most of the heaviness but less Thrash oriented than its predecessors. Instead focusing more on developing melodies and harmonizing the music with the new vocalists style. The promo was given out at gigs and the track was also featured on the "InToxicated – Vol.2" compilation CD in 2003. Diarmuid Shore was not part of the recording line-up for this promo and had been replaced by Shane O'Dwyer, but he returned to the band later in 2002 when the band recorded a second 1-track promo, 'Colony Of Ghosts'. This promo was originally kept unreleased, however! As the band were dissatisfied with Grogan's bass playing on the recording and he was eventually dismissed from the group. The track has since been made available here on the Archive courtesy of Greg Clarke and the band. Bass duties were handled for a time by Manual Ponce De Leon, who was part of the line-up that recorded their third 1-track promo, 'Suffer My Insomnia', the following year. At this stage the band had almost completely abandoned their heavier metal roots and took a noticeable shift in musical direction.
A couple of gigs were arranged for the end of April in 2003 which involved bringing over Norwegian band INCHI. One was in the Temple Bar Music Centre and the second in Eamon Dorans. The band were constantly writing material for their next EP which was recorded in Cosmic Studios over a number of weeks between September and October of that year. Cathal Rodgers had joined as full time bassist only weeks prior to the recording. The "High Tide" EP was officially released in Dublin in December 2003. Again! Taking another noticeable step away from their heavier roots. The band then travelled to Norway in 2004 for a short series of gigs, again with INCHI. While in Norway they met up with members of GREEN CARNATION and upon their return to Dublin they immediately set about writing and rehearsing material for the follow up to "High Tide" as well as arranging for GREEN CARNATION to gig in Ireland for the first time ever.
"The Moment In Review" EP was recorded during July and August of 2004 in Manor Park Studios by Neal Calderwood. Before hitting the studio, internal cracks had already begun to appear, the bands ambitions were misaligned, increasingly members became frustrated with Andy O'Toole's erratic live performances, professionalism and lack of preparation for the recording leading to a tense studio atmosphere. The EP was nonetheless successfully completed and launched in October that year, however after further questionable live performances culminating in a disastrous outing at the Front Page in Belfast, the band were left with no choice other than to dismiss in December 2004.
The band regrouped in 2005 and began an auditioning process, screening over thirty potential vocalists. After numerous false starts and failing to gain any traction with any of the candidates, they began to play instrumental sets just for fun. Heartened by the reception the material received and armed with a wealth of music to choose from, they travelled once again to Manor Park to work with Neal Calderwood on an EP, during this recording, the feeling was the material had moved away from a refined rock style to a more expansive type of Post-Rock, so they made the decision to make a fresh start and changed the name to PARHELIA.
Genres
Post Rock/Metal, Rock, Thrash Metal
Members (Current)
Andy O' Toole - Vocals ('02-'05)
Greg Clarke - Guitar ('99-'05)
Diarmuid Shore - Guitar/Samples ('99-'02 / '02-'05)
Andy Clarke - Drums ('99-'05)
Cathal Rodgers - Bass ('03-'05)
Members (Former)
Kieran McDonnell - Vocals ('99-'02)
Shane O'Dwyer - Guitar ('02)
Mark Grogan - Bass ('99-'03)
Manuel Ponce De Leon - Bass ('03)