Kingdom
Black Metal / Co. Dublin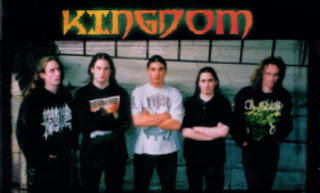 Formed in 1996 by members of various other Irish bands including MOURNING BELOVETH, ABADDON INCARNATE, SOL AXIS, GEASA, CRUACHAN, ARCANE SUN, etc. They demoed two tracks in June 1999, both of which are early incarnations of tracks that were recorded properly later that year. The first track, 'Live To Die Again' is an early version of 'Poisoned'. And the second 'Evil Omen' is an early version of 'Bloodtide'. But it wasn't until November of 1999 that the band got into Poppyhill Studios to record their 3-track 'Bloodtide EP', which was released in 2000 and would turn out to be their only release before the band split.
The vocals are Black/Death Metal style but the music itself isn't far removed from Swedish Death Metal. There's a nice bit of variety in the tracks with the opening title track 'Bloodtide' being fairly aggressive in it's delivery,  it's nearly straight up Black Metal, but with plenty Death Metal touches thrown in. The second track, 'Poisoned', starts off much slower and has an almost Doom vibe to it, but heads back into Black/Death territory again for the latter half. 'Revelation 666', the final track absolutely smacks of NWOBHM, only charred and blackened up to the hilt.
It's an absolute cracker of an EP and definitely worth checking out. The band history of all the players involved is pretty extensive as regards the Irish metal scene is concerned. A little trivia for the metal nerds among you. Brendan Roche replaced Adrian Butler after the EP was released. He also stepped into Aido's shoes in MOURNING BELOVETH a few years later.
Genres
Black Metal, Death Metal
Members (Current)
Brian O'Connor - Vocals
Aaron Murphy - Guitar
Stephen Galvin - Guitar
Brendan Roche - Bass
Colin "Necrohammer" Purcell - Drums
-
Members (Former)
Gareth Yeung - Guitars
Adrian Butler - Bass
Cory Sloan - Bass (Session)
Robin Bailey - Guitar (Session)