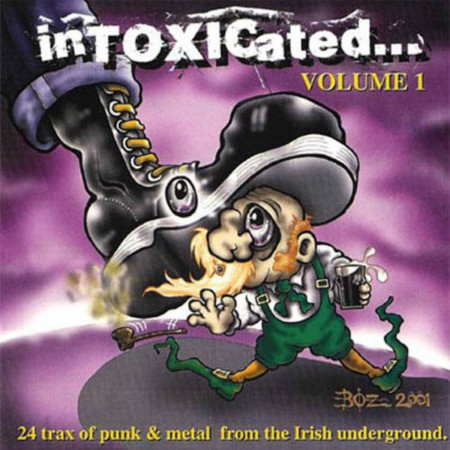 We're currently working on restoring the stream for this release. Please check back soon.
BAND / TRACK LISTING;
01. THE DAGDA – Concrete Prometheus
02. COLDWAR – Domination
03. ABADDON INCARNATE – Aeons
04. RUNNIN' RIOT – Cash In Hand
05. STOMACH – Wasted
06. THE STEAM PIG – Chameleon
07. THE MO7's – Shake Rattle and Rot
08. SKINT – Thief In The Night
09. STRESS – Cure the Disease
10. HALF MAST – Lust For Life
11. 2000 STRONG – Payback
12. GEASA – Seas
13. CONTROL – One Shit Day
14. PARANOID VISIONS – Frantic World
15. BLOOD OR WHISKY – Frank
16. SIR KILLALOT – Everything
17. KINGDOM – Bloodtide
18. BRUTAL – Dragging Us Down
19. CORRUPTED – Awaken
20. BLOODY MUTANTS – Crum Skum
21. NERDLINGER – Six
22. BLOOD RED DOLLS – Shotgun Alabama
23. B-SHARPS – Entertainment Machine
24. BRINSKILL BOMB-BEAT – Remove To Erase
Released Early 2001 | 1000 Copies Pressed | Sold-Out
BUY/DOWNLOAD:  Underground Movement 
Editor Notes:
UNDERGROUND MOVEMENT (formerly Toxic Records) was started in 2000 by Ian Lawless (a long time contributor to the Irish Underground Metal and Punk scene) and John Toxic of Toxic Promotions. In 2001 they released the first compilation "Intoxicated – Vol.1" which was an all Irish Metal, Punk and Hardcore compilation and the following year they released COLDWAR's debut album "Whorebred and Hellraised".
By 2003 John was too busy with gig's to continue with the label, so he went on and continued with Toxic promotions. That year we released "Intoxicated – Vol.2" – our first international compilation. Due to people continuously mixing up the label and the promotion agency, Ian changed the label name to Underground Movement, and in 2004, "Intoxicated – Vol.3" was released.
The final CD in the series, "Intoxicated – Vol.4" was released in 2006, but for this one it was once again an all Irish compilation. Covering all aspects of the local Irish scene, it was an uncompromising release that included everything Metal that our Island had to offer at the time. From the Old-School Death Metal of MORPHOSIS, the unrelenting Grindcore/Death of ABADDON INCARNATE, COLDWAR and PUTREFY, to the more modern styles of ERA VULGARIS, SCAVENGER, CHOSEN and the Post/Rock genius of PARHELIA. As well as everything in between. A fantastic representation of all Ireland's heavy music being produced at that point in time.