Fitted Kitchens Of The Living Damned – No.3 (Winter 2000)
Originall Published: 2000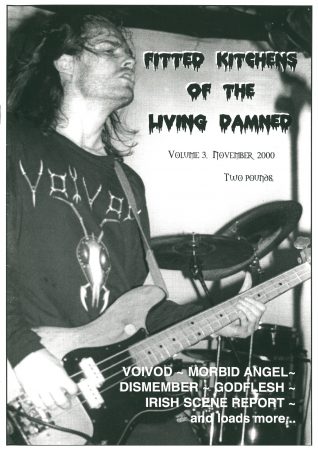 "FITTED KITCHENS OF THE LIVING DAMNED" – Issue No.3 (Winter 2000)
Third and final issue of the fanzine from November 2000 compiled by 'Spandex Oo-er'…
With contributions from Mr Nightmare of Doom and Motorbike Frenzy, Joe Solo Lecat and Mo Tormentor.
Featuring interviews and reviews with Darragh O'Leary from Invictus Productions and Irish acts such as ABADDON INCARNATE, ARCANE SUN, CURSED EARTH, THE DAGDA, DESOLATE, D.K. DISTURBIA, EPOCH, GEASA,  HEXXED, HONEY FOR CHRIST, KINGDOM, LESSHELP, PRIMAL DAWN, PRIMORDIAL, RIFFMASTER GENERAL, SCALD, SPINDRIFT, THE DEAD TRAVEL FAST and ZEROTONIN.
As well as international acts like 2-TON PREDATOR, 7TH CHILD, AGENT STEEL, AGATHOCLES, ANACRUSIS, ANGELWITCH, ARTILLERY, ASPHYX, AVULSED, AXEL RUDI PELL, THE BERZERKER, BORKNAGER, CARNAGE, CATHEDRAL, CHRISTIAN DEATH, COLDBLOODED, CORPORATION 187, CORPSE SHAGGER, CRANIAL TORMENT, CRADLE OF FILTH, DANZIG, DECAPITATED, DEMONS AND WIZARDS, DESECRATION, DIOXIN, DISMEMBER, DESTRUCTION, EKTOMORF, THE ENCHANTED, ENTOMBED, EXCARNATED, FLIGHT OF FANTASY, GODFLESH, GORGOROTH, GROT, HATE ETERNAL, HATRED, THE HAUNTED, HECATE ENTRHONED, HELLBASTARD, HERESIAH, HOLOCAUST, HYPOCRISY, IRON MAIDEN, KONKHRA, LIAR OF GOLGOTHA, LOUDBLAST, MALEDICTION, MAYHEM, MEGADETH, MENHIR, MICHAEL SCHENKER, MOONSPELL, MORBID ANGEL, MOTORHEAD, N.R.G. ADDICT, NIGHT IN GALES, NOCTURNAL MORTUM, NOCTURNUS, OPPROBRIUM, OVERKILL, PANTERA, PENETRALIA, PHANTASIA, RAPTURE, REIGN OF EREBUS, ROTSCHRECK, SCARIOT, SCHEITAN, SCEPTIC FLESH, SIGH, SILENTIUM, SLAUGHTER LORD, SLIME GOD, SOULFLY, SOULGRIND,  SOUL REAPER, STEEL PROPHET, STRATOVARIUS, S.U.P., TEFRA, THERION, THORIUM, THRONE OF NAILS, TO DIE FOR, TRISTATIA, UNSILENCE, WASTE, VANDEN PLAS, VENOM, VOIVOD, WYKKED WYTCH, etc.
---