Fitted Kitchens Of The Living Damned – No.1 (Winter 1998)
Originall Published: 1998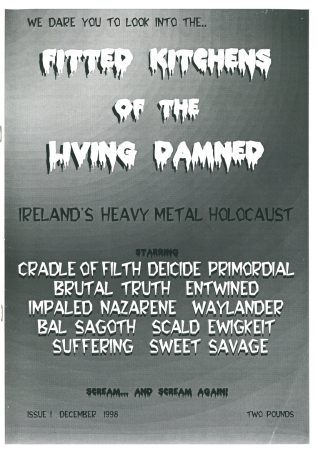 "FITTED KITCHENS OF THE LIVING DAMNED" – Issue No.1 (Winter 1998)
First issue of this excellent fanzine series from December 1998 compiled by 'Spandex Oo-er'…
With contributions from Mr Nightmare of Doom and Motorbike Frenzy, Joe Solo Lecat and Mo Tormentor.
Featuring interviews and reviews with Irish acts such as ARCANE SUN, ABADDON INCARNATE, BRINSKILL BOMB-BEAT, DREAMSFEAR, EPOCH, GEASA, THE KABINBOY, KARNAYNA, KINGDOM, MOONFOG, MOURNING BELOVETH, NIL, PERDITION, PRIMORDIAL, SCALD, SWEET SAVAGE and WAYLANDER.
As well as international acts like AMON AMARTH, ANTHRAX, APPOLYON SUN, CANNIBAL CORPSE, COVENANT, CRADLE OF FILTH, ENTWINED, EWIGKEIT, FEAR FACTORY, GOREFEST, THE HAUNTED, HA LELA, IMPALED NAZARENE, IRON MAIDEN, MOONSPELL, MORBID ANGEL, MOTORHEAD, MY DYING BRIDE, RAISM, SLAYER, SWORDMASTER, W.A.S.P., CELTIC FROST, EINHJER, OLD MAN'S CHILD, BRUTAL TRUTH, SIX FEET UNDER, DEICIDE, TRANSCENDANCE, AGATHODIAMON, SHADOWLORE, THE MEADS OF ASPHODEL, PHANTASIA, SUFFERING, ENMIT, etc.
---