Souled – No.1 (1992)
Originall Published: 1992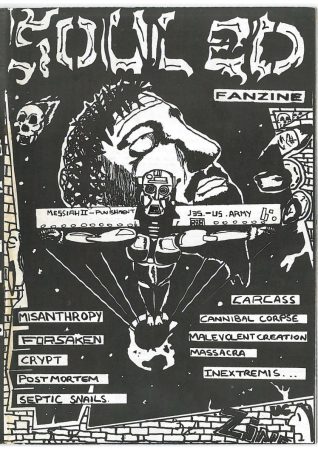 "Souled" – No.1 (1992)
Another proper old-school fanzine from 1992 compiled by Peter, Jonothan, Daniel, Alan and Chris…
Again mixed with typed and hand written content as well as plenty copy'n'paste (by hand) cut-outs stuck in for good measure.
Interviews/Features:
MISANTHROPY, CARCASS, FORSAKEN (pre-PRIMORDIAL), CANNIBAL CORPSE, CRYPT, DECOMPOSSED, MYTHIC, MORGOTH, THANATOS, MALEVOLENT CREATION, DORSAL ATLANTICA, MASSACRA, POST MORTEM, SEPTIC SNAILS, INEXTREMIS, ENTOMBED…
Album Review:
MORTUARY, BAPHOMET, STILLBORN, MY DYING BRIDE, INCANTATIONS, MONSTROSITY, DEICIDE, NUCLEAR ASSAULT, SINISTER, ASPHYX, THERION, DISHARMONIC ORCHESTRA, BAPHOMET, MESHUGGAH, ATHIEST, UNLEASHED, NAPALM DEATH, MEGADETH, INCANTATION, ROTTING CHRIST, IMPALER…
Demo Review:
MORTA SKULD, TRICIFIX, EDGE OF SANITY, ANATHEMA, EXEMPT, MISERY, LEUKEMIA, MAIMED, PSYCHOSIS, XYSMA, SENTENCED, NECROTOMY, CRADLE OF FILTH…
And a feature on the classic "A Compilation of Nursery Rhymes in A Minor" tape… PLUS MORE…!!!
---