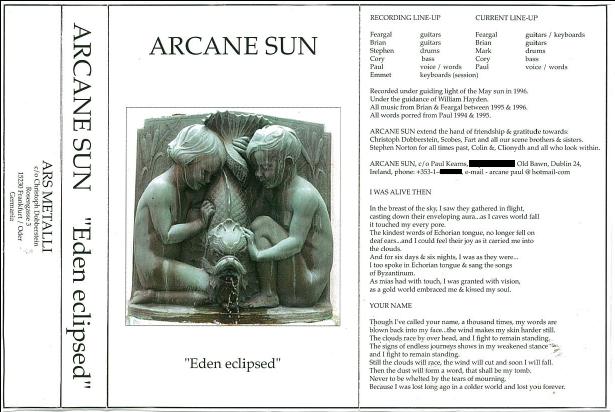 We're currently working on restoring the stream for this release. Please check back soon.
TRACK LISTING:
1. I Was Alive Then
2. Your Name
3. The Promise (a culmination in sorrow)
Recorded and mixed in Poppyhill Studios, Kildare in August 1995 by Willy Hayden.
Only the first two tracks were officially listed on the promo, but a re-recording of the 'The Promise…' from the first demo was also included.
Bass – Cory Sloan
Drums – Stephen Norton
Guitars – Feargal Flannery
Guitar – Brian Carroll
Keyboards (session) – Emmett Rees
Vocals – Paul Kearns
Thanks to Paul Kearns and Feargal Flannery for allowing me to upload this album for everyone to listen and download.
Thanks also to Cory Sloan and Daithi BM for passing on copies of the tape.