Invictus Newsletter – No.1 (September 1999)
Originall Published: 1999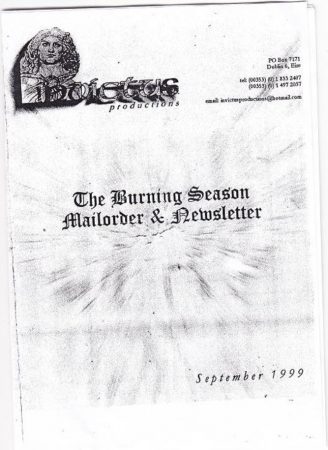 "Invictus Newsletter" – No.1 (September 1999)
Mailorder & Newsletter compiled and distributed by Darragh O'Laoghaire (VIRCOLAC, SOL AXIS).
Pics aren't the best quality, but it's still quite readable.
Features a blast of news, reviews and updates from the time which includes ANGELCORPSE, DARK THRONE, DARK FUNERAL, VIRGIN STEELE, NEVERMORE, VARATHRON SATYRICON, HAMMERFALL, DIMMU BORGIR, OLD MAN'S CHILD & POSSESSED…
As well as an "IRISH NEWS" section which includes… ARCANE SUN, GEASA, ABADDON INCARNATE, WAYLANDER, CRUACHAN, KINGDOM, MAEL MORDHA & MOURNING BELOVETH. As well as a brief interview with A. Neamtheanga of PRIMORDIAL ahead of the release of the "The Burning Season" EP. 
---