Shardborne
Instrumental / Co. Limerick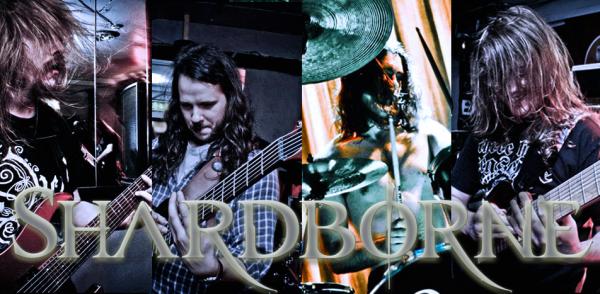 Links
SHARDBORNE are a Progressive/Technical Instrumental Metal band based in Limerick. They were formed in October 2004 by the Culhane brothers on guitars and bass and Ben Wanders on drums. Eventually Eoin switched from bass to guitars and the band started to concentrate on original material. They went through a number of vocalists and bassists, but the core three band members continued on, eventually enlisting their friend Diarmaid on vocals.
The bands mix of guitar driven melodies and complex music structures leads to an exciting unique sound. The twin guitar players meld lines together with interwoven bass grooves and creative technical drum beats as the band collectively skip from one timing to another and from genre to genre.
Around 2008 they recorded a demo of original material and had intended to record an album while Heavey and O'Connor were band members. But that line-up didn't last and O'Connor left the band so those plans were dropped. The recordings were never fully completed or released. Their first official release as an instrumental band was the track 'Approaching C' on the LIMROCK / BAD REP 2010 compilation CD, 'METAL AFTER MASS Vol.2'. Heavey jumped ship around October/November 2010 and was quickly replaced by Cormac O'Farrell.
Finally! After many line-up changes and settling full-time as an instrumental act, the band have officially released their debut 'Aeonian Sequence EP' in April 2011. The EP really is an excellent release. Displaying a vast number of musical influences, quality of song writing and superb playing ability by each band member. So check it out! NOW!. It is available for completely FREE download at their bandcamp and other links provided below. Physical copies can be bought directly from the band through their facebook and email provided above.
Genres
Instrumental, Progressive
Members (Current)
Eoin Culhane - Guitars
Ciaran Culhane - Guitars
Ben Wanders - Drums
Cormac O'Farrell - Bass
Members (Former)
Donal Heavey - Bass
Diarmaid O'Connor - Vocals