Atheos
Death Metal / Co. Westmeath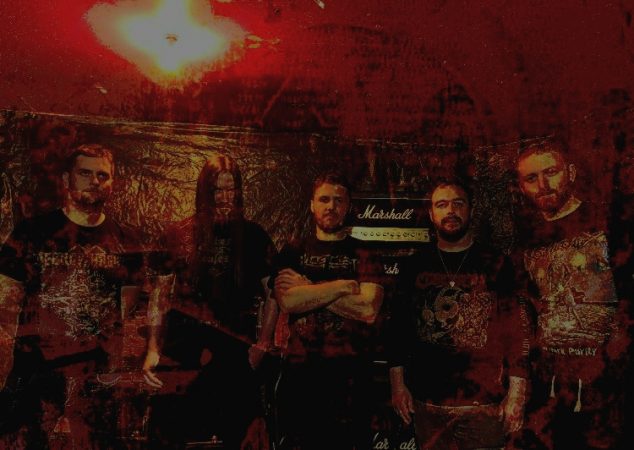 Links
Editor Notes:
Superb Technical death Metal band from Mullingar in Westmeath. First formed in late 2005 from the remains of two other Mullingar based metal bands and originally going under the name TRANQUILITY REGAINED, they recorded a 2-track demo in late 2006. Constant line-up difficulties have hampered the band from day one, with guitarist John Byrne and drummer Wayne Walsh being the two mainstays throughout. But they are no strangers to biding time and honing their abilities.
John Sullivan was always in the background, even after his departure soon after the bands debut album "The Human Burden" was recorded. But as of early 2014 he is once again be in the fold full-time, along with new blood in the form of Eddie O'Malley (SLAVE ZERO, BREED THE KILLERS) who joined on bass in the Summer of 2014 just as McCormack left the band. In early 2015 Shane Kiernan (AESECT) joined the band on vocals. This new line-up played their first live show on thursday the 12th March in Fibbers, Dublin supporting Dutch Death Metallers, DICTATED.
Kiernan didn't last with the band and has since been replaced by Hick Hughes, who is also a member of ON PAIN OF DEATH, GOURD and most recently with COSCRADH.
Previous Biography…
ATHEOS formed in Mullingar, Ireland in 2005. The original line-up consisted of John Sullivan and John Byrne on guitars, and Wayne Walsh on drums. Between the years 2005-2008 various vocalists and bass players accompanied the death metal trio, but difficulties arose with finding members to remain in these positions permanently. In 2008 Alan McCormack filled the position as vocalist, although the position of bass player still remained vacant. Throughout 2008 ATHEOS wrote their EP "The Death Of Utopia" and in January 2009 recorded it in Komodo Studios with the Walker brothers. In August 2009 "The Death Of Utopia" was released on Underground Movement and following its release received excellent reviews from around the world. ATHEOS gigged extensively throughout Ireland in 2009-2010, with Damien O Reilly, Páirig Murray, and Pam Lennon filling the position as bass player over different periods throughout these years. Their live shows received great comments and due to this they supported bands such as Suffocation and Cattle Decapitation.
In Summer 2010 ATHEOS began recording their debut album "The Human Burden" with the Walker brothers from Komodo Studios. Unlike "The Death Of Utopia" a mobile studio was brought to Co. Westmeath and the album was recorded in various locations surrounding Mullingar. Following the recording, long time guitarist John Sullivan decided to depart from ATHEOS. In March 2012 Greg Kaczmarek replaced John on guitar and Stas Nepomnaschy joined ATHEOS as their new bass player. Work began on preparing for live shows with their new members and in September 2012 they hit the gigging scene once more playing around Ireland and supporting bands such as Sadistic Intent and Exhumed. "The Human Burden" was released on Underground Movement in January 2013 and much like their EP, it received excellent reviews across the world. Unfortunately in May 2013 ATHEOS had to part ways with Greg and Stas. In January 2014 John Sullivan returned to the band for a time. In June 2014 Eddie O'Malley joined Atheos on bass. And in July 2014 Alan McCormack left the band. A new album is currently being written and following that they plan on returning to the gigging scene once more.
Recent years has seen Hick Hughes (COSCRADH, GOURD, ON PAIN OF DEATH) take over on vocals and John Loftus join on guitars. The bands latest album "Words Of Eroding Worlds" is released on the 27th October 2020.
Genres
Death Metal, Technical Death Metal
Members (Current)
Hick Hughes - Vocals
John Byrne - Guitars
John Loftus - Guitars
Eddie O'Malley - Bass
Wayne Walsh - Drums
Members (Former)
John Sullivan - Guitars
Greg Kaczmarek - Guitars
Damian O' Reilly - Bass
Páirig Murray - Bass
Pam Lennon - Bass
Stas Nepomnaschiy - Bass
Alan McCormack - Vocals
Shane Kiernan - Vocals