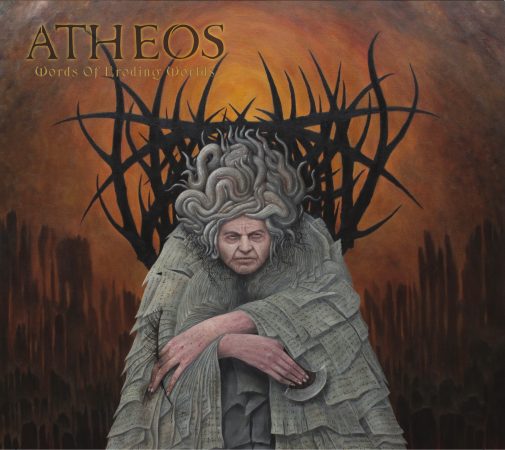 We're currently working on restoring the stream for this release. Please check back soon.
TRACK LISTING:
01. Morte Sumus
02. Become Dust, Colossus
03. Embers Obscure The Sun
04. The Parchminer
05. Deus Vult Illud
06. Ruins Monarch
07. Smashing the Antler Throne
08. The Hollow Stone
09. Oceans and Flame
Release Date:  27th October, 2020  
BUY/DOWNLOAD:  Bandcamp  –  Niflhel Records  
Recorded by Ciaran Culhane
Mixed by Ben Wanders
Mastered by Richard Dowling
Artwork and Design by Paul McCarroll
All lyrics by Atheos except 'Oceans And Flame'; a reworking of 'The Testimony of the Suns' by George Sterling and various quotes by Diego de Luna, Michael Houellebecq, John Gray, John Dryden Christopher de Hamel and Homer.
Hick O'Aodha – Vocals/Noise
John Byrne – Guitars
John Sullivan – Guitar/Lyrics
Eddie O'Malley – Bass
Wayne Walsh – Drums
Editor Notes:
Superb sophomore full length album from this technical death metal crew. As with their previous album "The Human Burden" and indeed it's predecessor "The Death Of Utopia" the band have an incredible knack for delivering punishing DM riffs with their own unique technical flair thrown in to spice things up even further. This time round they have the inimitable Hick O'Aodha on vocals, delivering a myriad of vocal styles and adding yet another thick layer to the bands sound. And there is certainly more atmosphere to this album than previous efforts.
Highly recommended! Buy it!