Sinocence
Heavy Metal / Co. Antrim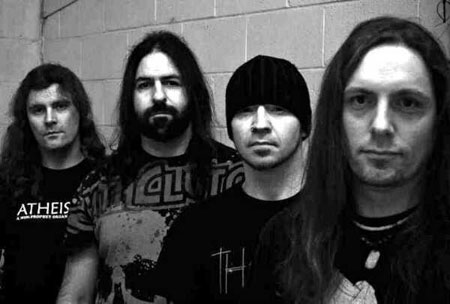 Links
Sinocence are a heavy metal band with two albums and a plethora of support slots under their belts (Machine Head, BFMV, In Flames, Therapy?, Lacuna Coil, Soil, Staind, W.A.S.P, Paul Di' Anno, Blaze Bayley and Soulfly). Sinocence have also appeared at UK festivals Bloodstock & Bulldog Bash.
Their debut album 'Black Still Life Pose' was released in 2005 and on the strength of this album Sinocence toured the UK & Europe.
Their second album 'Scar Obscura' was released on Rising Records on 15 June 2009 and is a veritable tour-de-force in vicious, hook-laden, melodic metal. Featuring 10 songs of raging metal anthems, 'Scar Obscura' is a must for anybody with even a passing interest in heavy music. With many bands taking on an abrasive screaming approach, Sinocence continue to focus on their solid songwriting skills and intense rhythm section. What sets the band apart from their contemporaries however are the soaring, emotional vocals that Moro lays down. In addition to great reviews in both Metal Hammer 8/10 and Kerrang! KKKK, 'Scar Obscura' also received airplay on Bruce Dickinson's BBC radio show and the track "Metalbox" was included in Metal Hammer's covermount CD in February 2010.
As a self-financed act, the band have managed to lead a productive musical life and achieve worldwide distribution with Casket/Co-Pro Records for 'Black Still Life Pose' and with Rising Records for 'Scar Obscura'.
In July 2010, the band formed their own label – Metalbox Recordings – and all future releases will be released on Metalbox Recordings and distributed by Code 7, and Plastic Head Media for digital.
Sinocence have re-released their album 'Scar Obscura' on 1 November 2010 as a Special Edition.
Sinocence are now hard at work on their 3rd full length release and ready to raise the bar once again.
Genres
Heavy Metal, Thrash Metal
Members (Current)
Moro - Vocals / Guitar
Anto - Lead Guitar
Jim - Bass
Ben - Drums