THE VICIOUS HEAD SOCIETY: Interview & "Extinction Level Event" Album Details…
Posted: 30/03/2021 by John O'Brien
After his superb debut "Abject Tomorrow" back in 2017, Co. Clare's resident prog metal meistro Graham Keane returns with his sophomore release "Extinction Level Event" from his band/project THE VICIOUS HEAD SOCIETY. As expected from the musicianship and song writing are to an exceptionally high standard. The songs on this new effort are more reigned in as regards song lengths, although there are a couple of ten minute tracks for prog purists to lap up. An absolute must have for any fan of progressive rock and metal.
Graham recently spoke with 'PETHROPHILE PROMOTIONS' Danny Fitzgerald where they spoke about the new album and it's recording process. Check out the full interview in the embedded link below…
---
"Extinction Level Event"… one could say this long awaited title reveal of the forthcoming album from THE VICIOUS HEAD SOCIETY today is quite apt given what the world has endured the last year or more. At a time of uncertainty, Irish guitar virtuoso Graham Keane, the brainchild behind THE VICIOUS HEAD SOCIETY, has been hunkered down like the most of us. However, while some of us were taking up new hobbies or ploughing through documentaries, and binge watching boxsets, one of us has been quietly fine tuning his latest epic for an exciting unveil this summer.
Following on from his 2017 debut "Abject Tomorrow", an album which featured notable guests such as Derek Sherinan of Alice Cooper fame, fellow Irishman and bass player Pat Byrne, and drum machine Kevin Talley. Abject Tomorrow gained recognition from prog metal fans the world over, with spreads in the likes of UK's Metal Hammer and airplay on national radio only further cementing Graham's reputation.
Graham discusses his new album, "In very basic terms, Extinction Level Event is an album about the end of the world. This is a concept that has been explored in various other forms of media but on this album, I wanted to explore personal stories about how people might react to knowing their demise is imminent."
"It tells the stories of 7 different people facing the end, how they process the event, what meaning or impact their lives have had. It asks what they cherish, what grudges or ill will they hold on to. Will they face the end with dignity? Essentially, the album asks the same question of us, the listener. Grief and loss are never far away… are we willing to carry bitterness, anger and resentment to our death or are we willing to let go? Conversely, are there people in our lives that are deserving of forgiveness?"
As with "Abject Tomorrow" Nathan Maxx returns on vocals. Graham adds that "his voice was the perfect fit for this more modern sound. He was able to deliver versatile and very emotive vocals for every song." Likewise Klemen Markelj is back on drums along with Pat Byrne of HEDFUZY on bass. Nahuel Ramos who played on the first album is also back to offer some keyboard solos and there are guest appearances from Australian virtuoso Chris Brooks and violinist Shelley Weiss. In addition, Graham wanted to have a dedicated growler for this album and after hearing Andy Ennis' work with OVEROTH, he reached out and asked him to jump on board.
The album was mixed and mastered by Matheus Manente who also added some additional instrumentation. Graham said that, "he really has a deep understanding of the music and was an absolute godsend to work with. I can't praise him enough! Musically, I feel it has a more modern sound than "Abject Tomorrow". I was conscious of indulging too much this time and wanted things to be more concise. That's not to say there aren't plenty of tangential musical explorations but I felt that I needed to reign things in a little. For the people who love that side of prog, there are two instrumentals on the album! It's a very heavy album but also very melodic… my favourite writers have always managed to tread that line very carefully and I did my best to emulate them here. There's also a lot more continuity in terms of instrumentation. Seeing as it explores the end of the world, I thought it would be cool to explore my own childhood fear of nuclear war. I used a lot early 80's synth sounds to capture the feel and sound of that time."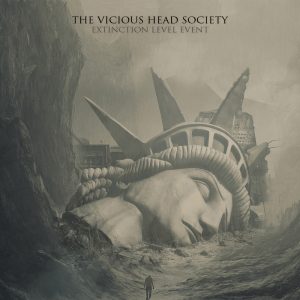 TRACK LISTING:
1. Extinction Level Event
2. Solipsism
3. The Signal 
4. Judgement 
5. Throes of Despair 
6. YP138 
7. On a Silver Thread 
8. Absolution 
9. Hymn of Creation
The album in full will be released 28th May 2021 via Hostile Media and will be available on CD, digitally and as part of a special limited edition 'Time Capsule' box set (details below)…
https://theviciousheadsociety.bigcartel.com/
www.facebook.com/theviciousheadsociety
www.hostilemedia.net 

'Extinction Level Event' Time Capsule *Ltd.Ed Box Set*
BUY HERE:   PRE-ORDER ONLY – CLOSES MIDNIGHT 9th MAY 2021
Strictly Limited Edition Time Capsule Includes:
– 'Liberty' T-Shirt Design (Will Not Be Reprinted)
– Extinction Level Event CD
– Extinction Level Event Digital Download
– Extinction Level Event Sticker
– Pack of 8 Extinction Level Event Art and Lyric Cards
– The Vicious Society Face Mask
– Extinction Level Event Guitar Plectrum
– Extinction Level Event Button Badge
– "Abject Tomorrow" CD