Slave Zero
Death Metal / Co. Kilkenny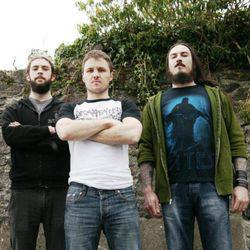 Links
SLAVE ZERO are a Death Metal band first formed in 2000. They released their first 3-track 'Once Was Human' demo the follow year and quickly followed that in 2002 with their self-released debut album 'The Defiant Stand'. Their next release was the 'The Pain Remits' EP wich was a notable step up in quality from the band while their 2009 offering 'Exempt from all Tolerance' saw the band moving even further in a more progressive and technically proficient direction which will undoubtedly push the band and its listeners to a new level of expectation.
The band's powerful, energetic live performances coupled with extensive touring throughout Ireland and Europe has gained them respect in the underground scene. This has generated opportunities to support acts such as Hatebreed, Exodus, Fozzy, Soilent Green, Misery Index ,Cephalic Carnage and Desecration to name a few. Their persistent desire to push boundaries and perpetual drive in spreading their music has attracted critical acclaim from publications such as Terrorizer, Metal Maniacs, and Brutallica and the band were even short-listed for the 2006 top ten unsigned acts in BW&BK Magazine.
The have also just released a new EP titled 'Disambiguated Visionary' as of November 2013.
Genres
Death Metal, Grindcore, Technical Death Metal
Members (Current)
Ben Wanders - Drums
Eddie O'Malley - Guitars
Graeme V. Flynn - Vocals
Paddy Kiernan - Bass
Members (Former)
Karol Kosc - Bass
Andy Coade - Bass
Kevin Jacob - Bass
Bob Ryan - Drums
John Roche - Guitars
Paul Callan - Vocals/Guitars
Adrian Foley - Guitars [live]