Condemned
Death Metal / Co. Antrim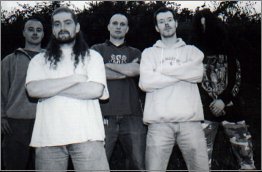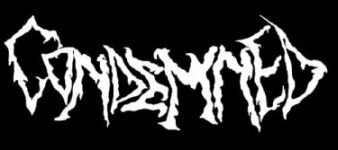 Links
Gore inspired Death Metal band from Belfast who first formed in early August 1994 and had their first demo written, recorded and released by the end of that month. But it would take another seven years before CONDEMNED would record their first CD demo, the self-released 'Prelude EP' in 2000, by which time the line-up had been re-vamped. Darren Lavery had now joined on bass, Pete Clarke had replaced Davey Foster on vocals, Graeme Young and Steve Moore had joined on guitars as Darren Crawfords replacement with Willy Taylor being the only steady constant on drums. This line-up quickly followed up and recorded and release the bands next self-released Demo EP, 'Somebody Stop…' in 2001. By 2003 the band had seen another line-up change with Mike Ardill taking up bass duties and Young quitting the band leaving Moore as the sole guitarist for the bands fourth release, '…and that's how I found them'.
Each one of these releases, particularly the brutal trinity of EP's, are an absolutely devastating assault of intense Grind/Death Metal. An intensity that the band successfully managed to bring to their live shows which were always highly regarded with the bands tight and focused delivery winning over crowds across Ireland and the UK. CONDEMNED have had the privilege of sharing the stage with notable bands such as VISCERAL BLEEDING, PUNGENT STENCH, DESECRATION, NECROPHAGIST, NAPALM DEATH, CANNIBAL CORPSE, OBITUARY and our very own PRIMORDIAL and Southern counterparts ABBADON INCARNATE.
Even though the band gigged steadily over the following years, their recorded output stopped again until their debut full-length, 'A Dying Art', was finally released in 2010. Mike Ardill had left the band at this point so for the album all guitar and bass tracks were recorded by Moore. Owen Boden (HEXXED) would then join the band around the time of the album recording.
Unfortunately! In July of 2011 Steve Moore announced his departure from the band after 16 years of involvement. The remaining members decided to put the band on hiatus and did not actively search for a new replacement. Instead they opted to continue in a different guise which has slowly been building momentum over the last year. THE OBSCENE MACHINE have just released their debut EP through Belfast's Grindscene Records. An equally devastating band that in some ways continues and fills the brutal legacy left behind by CONDEMNED.
The bands farewell show was on the 22nd December 2012. Free copies of the bands album 'A Dying Art' wre given out to all in attendance. Support on the night came from fellow Belfast acts HEXXED and WAR IRON.
Members (Current)
Willy Taylor - Drums(1994-2011)
Pete Clarke - Vocals(2000-2011)
Steve Moore - Guitars/B.Vocals(1995-2011)
Owen Boden - Bass(2010-2011)
Members (Former)
David Foster - Vocals(1994)
Stuart Harland - Vocals
Graeme "Skippy" Young - Guitars(1994-2004)
Darren Lavery - Guitars(1994)/Bass(1998-2004)
Darren Crawford - Guitars(1994)
Adam Reid - Bass(1994)
Mike Ardill - Bass(2004-2010)
Fred Turkington - Bass