Three Hour Ceasefire
Death Metal / Co. Limerick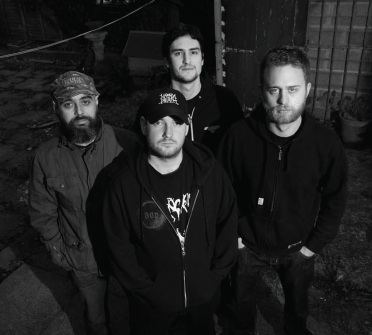 Links
You could trace the beginnings of THREE HOUR CEASEFIRE back to the late 1990's when a bunch of Limerick 15-16 year old's formed the band DISCORD. John Burrowes, Martin Mortell and Alan Lee, three of DISCORD's original members, would re-group about a decade later in the Winter of 2008 to form the original 3HC line-up with Peter McGlynn on drums.
Their first gig was February 2009 at the first Siege of Limerick. They made their first DIY recording on a laptop for the track 'The Smell Of A Burning Martyr's Hair and Nails' (say that backwards 10 times after a feed of Jagers), which was uploaded to their Myspace page. Peter then went to the USA for 3 months and when he returned they recorded their first proper 2-track demo with Ciaran Culhane (SHARDBORNE) in August 2009. Both tracks, 'King Of The Hill' and 'The Divine Fury' were uploaded to their online sites and made available to download for a time, but now are no longer available. 'King Of The Hill' was also featured on the 'Metal After Mass – Vol.1' compilation CD released in December 2009. During October of 2009 Peter left the band to tour America with a US Hardcore band and then England with Dublin Hardcore outfit FRUSTRATION. He now plays with Limerick hip hop band CampaignLK.
Kevin Clohessy, formerly of VICTIM X, joined the band on drums in November 2009 and this line-up recorded a 4-track demo in 2010. Tracks included 'Into The Breach', 'Gunslung Hero', 'Ninety Rulers' and a re-recording of 'King Of The Hill'. This demo was initially meant to be titled 'Cry Havoc', but ended up being shelved as the band weren't completely happy with the end result. Although a couple of them did surface online for a time and 'Into The Breach' was featured on the second, 'Metal After Mass – Vol.2' compilation CD. They knuckled down and set about practicing harder and more regularly which lead to John being replaced on vocals by Dan O'Carroll (INREIGN, ROPER) in December 2010. All their previous material was put aside and over the next year six new tracks were crafted. The planned demo release was also upgraded to their debut 'Cry Havoc' EP, which has now been released and is available from the band and Belfast's Savour Your Scene Records. The time and commitment spent honing their sound and style has certainly paid off as they have released one of Irish Metal's highlights of 2012.
Genres
Death Metal, Thrash Metal
Members (Current)
Dan O'Carroll - Vocals
Martin Mortell - Guitar
Alan Lee - Bass
Kevin Clohessy - Drums
Members (Former)
John Burrowes - Vocals
Peter McGlynn - Drums