Ten Point Rule
Hardcore / Co. Cork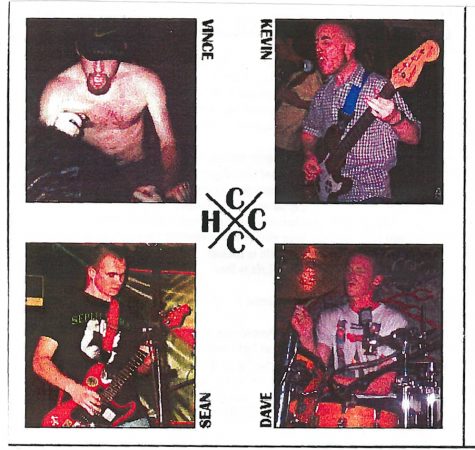 Links
Editor Notes:
Short lived hardcore crew from Cork who made a massive impact on the cities heavy music scene back in the late 1990's. Thanks a million to Dave Hackett and Vince McCarthy for getting in touch, providing the band biography and for allowing the bands recordings to be added to the Archive and shared with everyone.
TEN POINT RULE were formed in 1998.
An early incarnation of the band recorded a home made 4-track demo in early 1998. The demo was sent into and featured on the 2fm Metal Show back in the day. The band at this time would have been Vince McCarthy on vocals and Seán Keenaghan on guitars with Frank O'Brien on drums. Shortly after Kevin O'Brien and Dave Hackett would join the band on bass and drums bringing the popular live line-up of TEN POINT RULE to full fruition. 
The band played about 70 shows and 60 of them were upstairs in An Phoenix which was Cork's spiritual home for under age bands in the late 90's. It was the only bar in Cork city that gave young bands a stage to play on and to find their feet with no questions asked. This venue was home to the Cork folk scene in the sixties and seventies, where Christy Moore and Planxty toured before they made a name for themselves! An underground punk/metal/hardcore scene grew in An Phoenix and formed its own sphere apart from the main Cork music scene at that time. Not many people knew what was happening upstairs in An Phoenix but for a short time it was where young bands, that wouldn't get a gig in most other venues in the city, had their own stage that was avidly followed and supported by the bands peers.
TEN POINT RULE played a handful of gigs in Nancy Spains, a now derelict bar that had ornate wooden features and a fantastic venue at the rear. Nancy Spains is one of Corks great forgotten venues. One night the floor boards on the Nancy Spains dance floor broke due to the frenzy of The Point Rule mosh pit, such was the sign of a good gig back in those days.
TEN POINT RULE recorded a 5 track CD in BPM studios in Douglas in April 1999 and launched it the following month in An Phoenix, one month before Dave, Seán and Kevin's leaving cert. The band were advanced the money from Kevin's parents and thankfully sold out of the 150 copies, which they printed for the occasion, that night and were then able to pay Kevin's parents back the next day. 500 punts was a lot of money back then!
In the interim of doing their exams and waiting for their results, the band went back into BPM studios in July '99 and recorded two tracks. However, due to lack of funds and other personal issues, the tracks were never released. Kevin was accepted into Trinity Medical School and the band attempted to keep going. It was apparent that the spirit in the band took a hit when Kevin left for Dublin. TEN POINT RULE called it a day in late 1999 having enjoyed a year and a half of popularity on the small yet vibrant Cork underground scene.
The link below is to the bands website from 1999, which remains unchanged. Vince speaks of releasing the two tracks recorded in the summer of 1999 and that was the last post on their site 21 years ago. After digging through his old computer, singer Vince McCarthy has found the two unreleased tracks and donated them to the Irish Metal Archive for any fans of the band at that time to listen to if they wish. It sounds like TPR were getting better, bigger, harder and faster!
http://homepage.eircom.net/~vincemccarthy/tenpointrule.html
Vince McCarthy works as a Programmer and now lives in Germany.
Seán Keenaghan works as a Systems Administrator and runs his own fitness company (SPK Fitness) in Melbourne.
Dave Hackett lives in Cork, works as a Tech Writer and is still 'at the music'!
Kevin O'Brien graduated from Med School and has recently returned from St. Helena after two years of being the only GP on the island. He now lives in Dublin.
TEN POINT RULE can be seen playing live at their CD launch at An Phoenix in May 1999 here… 
Members (Current)
Vince McCarthy - Vocals
Seán Keenaghan - Guitar/Vocals
Kevin O'Brien - Bass/Vocals
Dave Hackett - Drums