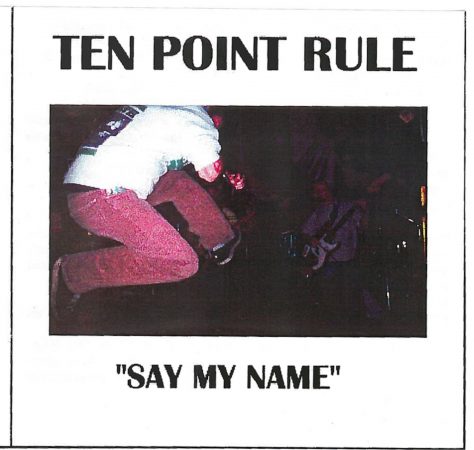 We're currently working on restoring the stream for this release. Please check back soon.
TRACK LISTING:
1. A Prime Example Of Irish Ignorance 
2. If I Don't Get Close They Can't Hurt Me 
3. Love Denial 
4. Say My Name 
5. What You Know (Scratch Mix) 
Release Date: May 1999 
DOWNLOAD:  IMA Bandcamp  
Recorded at BPM studios in Douglas on the 20th/21st April 1999.
Vince McCarthy – Vocals
Seán Keenaghan – Guitar/Vocals
Kevin O' Brien – Bass/Vocals
Dave Hackett – Drums
Artwork by Tadgh McCarthy.
Editor Notes:
Thanks a million to Dave Hackett and Vince McCarthy for getting in touch, providing the band biography and for allowing the bands recordings to be added to the Archive and shared with everyone.
"TEN POINT RULE recorded a 5 track CD in BPM studios in Douglas in April 1999 and launched it the following month in An Phoenix, one month before Dave, Seán and Kevin's leaving cert. The band were advanced the money from Kevin's parents and thankfully sold out of the 150 copies, which they printed for the occasion, that night and were then able to pay Kevin's parents back the next day. 500 punts was a lot of money back then!"