Driveshaft
Hard Rock / Co. Cork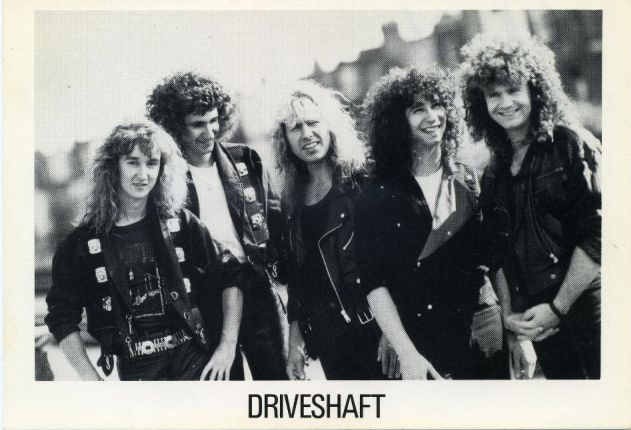 Links
Finding copies of the old DRIVESHAFT records is next to impossible. There are a couple of blogs online that have the 'Heartbreaker' single available for download, and the Cozy Powell album is still available. But that is pretty much it. The only other release I could find any trace of was the 'Live Cutz EP'. It had been sold on eBay just after Christmas last year for £141. So being the chancer that I am, I emailed the seller and asked if he'd made a digital copy of it. Two days later I got an email with the music files attached. Which was pretty decent of the guy!
Gerry Lane has been active on various fronts over the years and has released several solo albums, all ranging in various forms of rock from blues to country and straight up rock. Releases include "Meloneras Blues" in 2008… "Till The End Of The Line" in 2010, which has a decent AC/DC blues style with a GARY MOORE vibe to it… The country tinged rock album "Long Way Home"… And in 2015 Gerry Lane revisited his early years and re-recorded tracks from DISCOVERY and DRIVESHAFT for the album "Bloodlines".
You can find out more about what he's up to these days at his website, http://www.gerrylanemusic.com/.
A CD Anthology of the bands early singles and London demos was released by Greek label 'Obscure Nwobhm Releases (ONR)' in 2020.
Genres
Hard Rock, Rock, Soft Rock
Members (Current)
Gerry Lane (1980-1990) - Vocals/Guitar
Luca Zamberlin (1989-1990) - Guitar
Nicky Del Bo (1989-1990) - Keyboards
Pete Gordelier (1989-1990) - Bass
Mike Maher (1983)(1989-1990) - Drums
Members (Former)
Jaime Page (Driveshaft/Cajo 1985-1987) - Guitar
Fred Avesque (1984-1987) - Guitar
John Hennessey (1984-1987) - Bass
Graham Waxman (1984-1987) - Drums
John Sinclair (CAJO (1985-1986) - Keyboards
Cozy Powell (CAJO (1985-1986) - Drums
Neil Murray (CAJO (1985-1986) - Bass
Noel Murphy (1982-1983) - Bass
Gary Hartnett (1982-1983) - Drums
Jeremy Nagle (1982-1983) - Guitar
Kieran Kennedy (1982) - Guitar/Vocals
Pat O'Driscoll (1982) - Bass
Noel Curran (1981-82) - Guitar
Wayne Sheehy (1981-82) - Drums
David O'Donovan (Discovery 1980) - Guitars
Don Boyle (Discovery 1980) - Bass
Finbar O'Mahony (Discovery 1980) - Drums
Pat O'Donovan (Discovery 1980) - Sax/Vocals
Chris Hurley (Discovery 1980) - Bass
Denis O'Mahony (Discovery 1980) - Drums
John McGrath (Discovery 1980) - L.Guitar
Noel Redding (Discovery 1980) - L.Guitar [session]