Driveshaft
Hard Rock / Co. Cork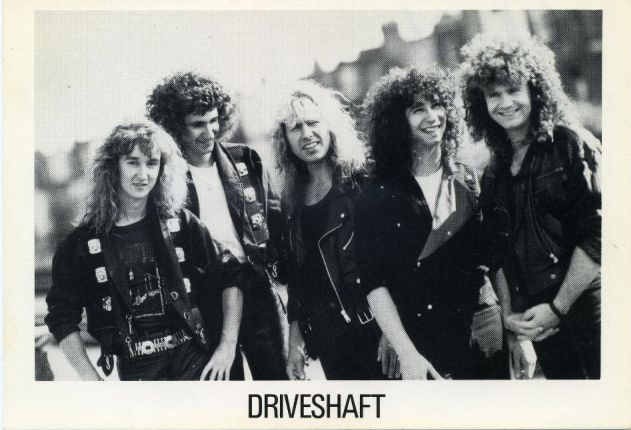 Links
In 1983, Lane had moved the band to London. They recorded some demos (released on the "Heartbreaker – The Anthology" CD in 2020) and started recording an album that was being produced by John Sinclair, keyboard player for OZZY OSBOURNE. Australian guitarist Jaime Page (BLACK ALICE / TRILOGY) stated that he joined DRIVESHAFT in 1985 to record some tracks with John Sinclair brought in to play and produce. And again in 1986 to record more tracks, but this time at RAK Studios with Cozy Powell and Neil Murray involved, both of whom served time in legendary bands such as RAINBOW, WHITESNAKE, GARY MOORE, BLACK SABBATH, BRIAN MAY and many more. With Powell and Murray, they re-recorded some tracks and also recorded new tracks too. Titles that are known include, 'Lonely Nights, Lonely Days', 'Crying' , 'Shout', 'Unchain My Heart', 'Hold On', 'Go For It'. 
Apparently the name for this Lane/Powell/Murray/Page project was to be CAJO, and not DRIVESHAFT. But going by the video clip from Gerry Lane below it would appear that the two projects were possibly active at the same time. And to add to the confusion, the single 'Unchain My Heart / Go For It' appears to have been released in Ireland in 1985 under the name DRIVESHAFT, yet Cozy Powell and Neil Murray are credited with being in the band when it was recorded. Unless it was a version from the 1985 sessions, and not from the 1986 RAK sessions. Also! According Jaime Page, the RAK sessions version of the band failed to secure a record deal, so the album was never completed, and Cozy Powell eventually joined BLACK SABBATH. It's not known exactly how many tracks were recorded during the unfinished DRIVESHAFT/CAJO recording sessions at RAK, or even to what extent they were finished to before the recording was halted. But two of the tracks, 'Crying' and 'Shout' (as 'I wanna Hear You Shout') did eventually surface in 1992 on the Cozy Powell album, "The Drums Are Back". And 'Unchain My Heart' also surfaced on a "The Drums Are Back – Rough Mix" album, which I think is a bootleg.
In 1989 went through yet another line-up change with Mike Maher rejoining as drummer, Pete Gordelier (ANGEL WITCH) on bass and Italians Luca Zamberlin and Nicky Del Bo brought in on guitar and keybords respectively. This line-up did an Irish tour in 1989 and the band finished up after their last gigs at The Hippodrome and the Park Royal Hotel in London on the 09th February 1990.
Genres
Hard Rock, Rock, Soft Rock
Members (Current)
Gerry Lane (1980-1990) - Vocals/Guitar
Luca Zamberlin (1989-1990) - Guitar
Nicky Del Bo (1989-1990) - Keyboards
Pete Gordelier (1989-1990) - Bass
Mike Maher (1983)(1989-1990) - Drums
Members (Former)
Jaime Page (Driveshaft/Cajo 1985-1987) - Guitar
Fred Avesque (1984-1987) - Guitar
John Hennessey (1984-1987) - Bass
Graham Waxman (1984-1987) - Drums
John Sinclair (CAJO (1985-1986) - Keyboards
Cozy Powell (CAJO (1985-1986) - Drums
Neil Murray (CAJO (1985-1986) - Bass
Noel Murphy (1982-1983) - Bass
Gary Hartnett (1982-1983) - Drums
Jeremy Nagle (1982-1983) - Guitar
Kieran Kennedy (1982) - Guitar/Vocals
Pat O'Driscoll (1982) - Bass
Noel Curran (1981-82) - Guitar
Wayne Sheehy (1981-82) - Drums
David O'Donovan (Discovery 1980) - Guitars
Don Boyle (Discovery 1980) - Bass
Finbar O'Mahony (Discovery 1980) - Drums
Pat O'Donovan (Discovery 1980) - Sax/Vocals
Chris Hurley (Discovery 1980) - Bass
Denis O'Mahony (Discovery 1980) - Drums
John McGrath (Discovery 1980) - L.Guitar
Noel Redding (Discovery 1980) - L.Guitar [session]