Acrid Nebula
Death Metal / Co. Dublin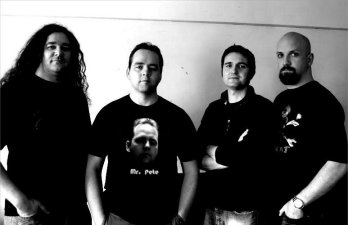 Links
ACRID NEBULA was started by guitarist Justin Maloney in 2006. After a brief search vocalist Finbarr Evans and drummer Pete Murray were enlisted and this has been the band's core since. After a lengthy search the line-up was completed by Sean Earley on bass.
Musically, ACRID NEBULA reflects the varying influences of it's members, who have been immersed in the Irish and global Metal scenes since the late '80s. From blistering speed to chugging doom, the only rule is that sounds good and heavy. The band covers much of the Metal spectrum in their material, with a lot of their power being able to switch seamlessly from fast to glacially slow tempos, with a wealth of crushingly heavy riffs to draw on.
The band released a three track demo, 'Black Days' in 2009 and released the 'Born With Teeth E.P' in July 2010.
On 13th May 2011, ACRID NEBULA played as support to the mighty DESECRATION in An Cruiscin Lan, Cork. Little did anyone know at the time that it would turn out to be their final gig. It's an absolute shame to see this band end things so soon. But what can you do. If it wasn't working then so be it. A recording of this final gig may be made available soon, so fingers crossed for that!
Justin emailed me to pass on a link to their complete recorded output containing both of their previously released 'Black Days' demo and 'Born With Teeth EP', plus their cover version of CELTIC FROST's 'The Usurper' which featured on the 'Thrash And Burn' Compilation CD (Buy it from Underground Movement), and an unreleased live recording of the gig they played in The Academy2 on 09 February 2011 as support to SYPHOR for the 'Stained Glass Blasphemy' album launch.
ACRID NEBULA's complete recordings can be downloaded from the single file below. But as I have already posted a blog page with download links to their 'Black Days' demo and 'Born with Teeth EP' which you can find (HERE), the CELTIC FROST cover track and the Academy2 gig can also be downloaded seperately below. The choice is yours.
Genres
Death Metal, Thrash Metal
Members (Current)
Sean Earley - Bass
Pete Murray - Drums
Finbarr Evans - Vocals
Justin Maloney - Guitars