Live at The Academy2, Dublin [04-Feb-2011] by Acrid Nebula (, 2011)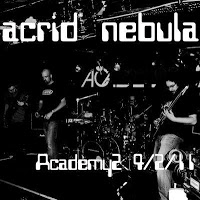 We're currently working on restoring the stream for this release. Please check back soon.
TRACK LISTING ;
1. The Atlas Case
2. Rebels For Applause
3. Prophecy
4. Hypocrisis (Previously Unreleased)
5. Born With Teeth
6. Revenge For The Weak
……………………………………….
7. The Usurper (CELTIC FROST cover)
Track 7 'The Usurper' was featured on the 'Thrash And Burn' Compilation CD
(Buy from 'Underground Movement').
———————————————————————————————————-
Finbarr Evans – Vocals
Justin Maloney – Guitar & Bass
Pete Murray – Drums
Sean Early – Bass