Last Breath
Death Metal / Co. Carlow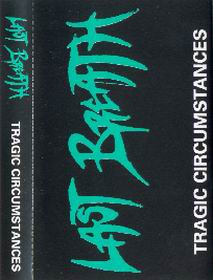 Links
LAST BREATH were a short lived Death/Thrash Metal band from Carlow. Formed around the beginning of 1991 with by Vinnie White (bass) and Cathal FitzGerald (drums) with Barry Whyte (guitar/vocals) round out the trio. This line-up recorded and released their first 6-track 'Minds Eye' demo in 1992. Soon after Barry Whyte left the band and went on to form DWELLER, also featured here on the Archive. The two remaining members were then joined by John McRory on guitars, with Vinnie White taking on vocals along with his bass duties. They quickly followed-up their debut demo with a second 8-track demo, 'Tragic Circumstance', the same year. Both demos are available to stream and FREE download from this site.
By the following year the three members decided to change tack and shifted their sound towards a more straight-forward metal/hard rock direction. They changed their name to MIND'S EYE, who are still actively recording to this day and have released numerous EP's and albums. All their releases are available for FREE download from the bands website… (http://mindseyecarlow.com/fr_home.cfm).
Both as LAST BREATH and MIND'S EYE the lads spear-headed death and thrash in the south east in the early 90s and toured for many years playing in Dublin, Galway, and across Leinster. They shared the stage with CRYPT, with Kildare's DEVIANT and SLEEPING VILLAGE, Galway's MOSH POTATOES, MAJOR HAZE from Tullamore, Wexford band PLAGUE BEARER and Athy's HEMLOCK.
Genres
Death Metal, Thrash Metal
Members (Current)
Vinnie White - Bass/Vocals
Cathal FitzGerald - Drums
John McRory - Guitar
Members (Former)
Barry Whyte - Guitar/Vocals