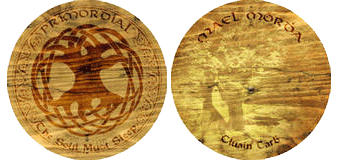 TRACK LISTING ;
1. PRIMORDIAL – Soul Must Sleep
2. MAEL MÓRDHA – Cluain Tarbh
Side A is a live recording of "The Soul Must Sleep" from Primordial's album Spirit The Earth Aflame, captured unprofessionally in Vienna, Austria in January 2003. Mastered in 2005. "The Soul Must Sleep" is dedicated to our Dutch friends.
Side B is the title track of Mael Mórdha's debut album Cluain Tarḃ, released on Karmaggeddon Media. The band name and track name are printed in Old Irish script. Taifeadh "Cluain Tarbh" i 2004 i dTrackmix, Cluain Saíleach, Áth Cliath.
Limited to 500 copies, with insert.
PRIMORDIAL ;
Pól MacAmlaigh – Bass
Micheál O'Floinn – Guitars
Simon O'Laoghaire – Drums
A.A. Nemtheanga – Vocals
Ciáran MacUiliam – Guitars
MAEL MÓRDHA ;
Shane Cahill – Drums
Anthony Lindsay – Guitars
Gerry Clince – Guitars
Roibéard Ó Bogail – Vocals/Piano/Whistle
Dave Murphy – Bass