Corr Mhóna
An Spailpín Fánach, Cork (2023)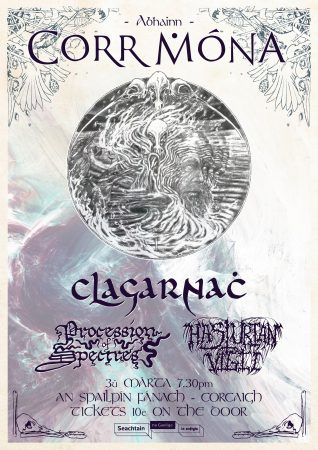 Editor Notes:
CORR MHÓNA make a welcome return to the stage in early March 2023 during 'Seachtain na Gaeilge' with dates in Cork and Galway on the 3rd and 4th March, respectively.
---
Beidh Corr Mhóna ar ais go luath! 🤘🤘
We are delighted to announce a couple of gigs this March, playing with CLAGARNACH, PROCESSION OF SPECTRES & HASTURIAN VIGIL.
Hopefully see ye at one of these for a very Gaeilge tinged night of metal set during Seachtain na Gaeilge!
– Spailpín Fánach, Cork – Fri 3rd March with HASTURIAN VIGIL, PROCESSION OF SPECTRES & CLAGARNACH
– Áras na nGael, Galway – Sat 4th March with PROCESSION OF SPECTRES & CLAGARNACH
– Both gigs will be €10 in and doors at 7:30
---
Tá an athas againn cúpla ceolchoirmeacha a fhógairt atá ar teacht i Mí Márta!
Beimid ag seinm a lán amhráin as Abhainn 'is beidh Procession of Spectres ag roinnt ceoil nua as a ndara ep oraibh! Ag an am ceanna, beidh banna nua CLAGARNACH ar an stáitse i gCorcaigh ag an céad ama agus ar deireadh, beidh HASTURIAN VIGIL ag baint amach a gcuid miotal dubh triaileach oraibh go dochraideach…
#corrmhonaband #clagarnach #processionofspectres #hasturianvigil #spailpinfanach #arasnangael #seachtainnagaeilge #irishmetal #gaeilge #blackmetal #doommetal #experimentalmetal
This event took place on Friday, 3rd March 2023 at An Spailpín Fánach, Cork .
If you have any video links or photos, feel free to share them below.