Pogrom
Death Metal / Co. Kildare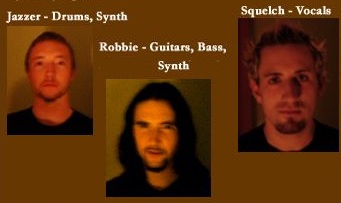 Links
Technical Death Metal band hailing from Kildare and influenced by old school death such as CARCASS, CANNIBAL CORPSE and more modern bands like MESHUGGAH. Originally formed in 2004 by brothers James and Robert Connolly who were joined by Karl 'Squelch' Walsh soon after.It was this line-up that recorded their one and only release, 'The Fury Of Silence' Demo later that same year in 2004 in Jam Studios, Kells. But Squelch left soon after the demo was released. David Knott (FIFTH DOMINION) joined later on bass and Eoin Byrne on vocal. They also made some other recordings, two covers for a compilation album and two originals, but weren't happy with them so they were never finished properly.
They have shared the stage with bands other notable Irish bands such as ABADDON INCARNATE, COLDWAR, MASS EXTINCTION, THE SWARM, PUTREFY, OVEROTH, SKEWERED, ZEALOT CULT and NEPHRIDIUM amongst others. Eoin eventually left the band while David switched over to second guitarist with the intention of finding a new bassist and vocalist, but the band called it quits in 2010.
Thanks a million to 'Jazzer' for passing this one on to me for the Archive. Check out his current band SKEWERED and one of his very early bands BLOOD SOAKED, both already featured on this site.
Genres
Death Metal, Technical Death Metal
Members (Current)
James "Jazzer" Connolly - Drums/Synths
Robert Connolly - Guitars/Synths
David Knott - Bass/Guitars
Members (Former)
Karl "Squelch" Walsh - Vocals
Eoin Byrne - Vocals