Molde
Black Metal / Co. Cork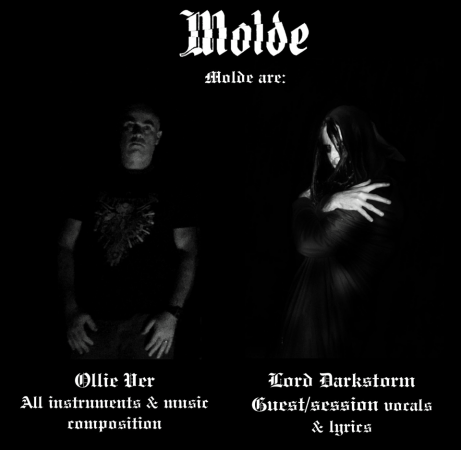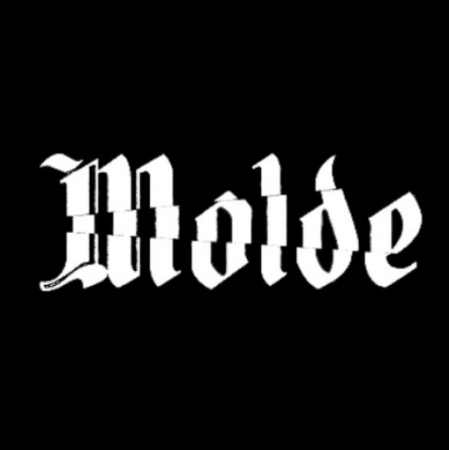 Links
Molde were founded by Ollie O'Shea (DOMINUS, DEMETER, FOR RUIN) and originally featured Brendan Gallagher (THOUGHTS OF RUIN, REVENANT) on vocals as well as members from various other notable Cork based bands such as drummer Barry "Barrytron" English (I'LL EAT YOUR FACE, [r]EVOLUTION OF A SUN and more), guitarist Ronan Hayes (BELINUS, FOR RUIN, FROM THE BOGS OF AUGHISKA) and bassist Noel Lynch ([r]EVOLUTION OF A SUN, EL BASTARDO, KAWTIKS and more).
Ollie's intention was to create black metal that infused elements of the type of atmospherics NEUROSIS are famous for.
2017 sees Ollie resurrect MOLDE and finish off some previously unreleased tracks with the addition of Lord Darkstorm on vocals, making it a joint Irish/Polish venture. The tracks have been release as part of a split CD with Polish Doomsters CURSED COVEN which has been released through The Ritual Productions. And available to buy from Fenriznl.com.
After the 2017 release, MOLDE returned with "The Messenger", a full-length album of Black Metal tunes played the Old School way! This force of an Irish-Polish alliance features the conjuring compositions of Ollie Ver from the Irish Underground, with the voices from the void of the 90's Polish Underground performed by Lord Darkstorm. MOLDE's new album entitled "The Messenger" is a tribute to the Ancestral Past in the vein of the early 90's underground scene. Cover artwork was created by Peter Hitz.
Genres
Black Metal, Death Metal
Members (Current)
Ollie Ver - Guitar
Lord Darkstorm - Vocals
Members (Former)
Brendan Gallagher - Vocals
Ronan Hayes - Guitar
Barry English - Drums
Noel Lynch - Bass