Mausoleum
Death Metal / Co. Antrim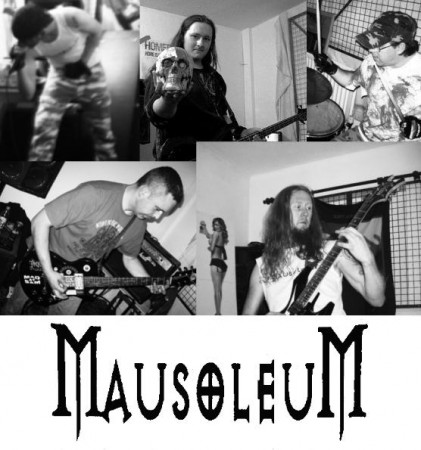 Links
MAUSOLEUM began when three friends started jamming together in summer 2007: Danny (guitar, formerly of EXISTING THREAT), Gary (drums, formerly of EXISTING THREAT) and Dommo (guitars). The band eventually came together with the addition of Paul (bass) and Rob (vocals) in 2009.
MAUSOLEUM started playing some local gigs in Northern Ireland to an enthusiastic reception, concentrating on covers from Obituary, Slayer and the like. Paul left the band in late 2010 but the remaining members carried on and recorded two original demos songs in April 2011. And soon after Ben joined in May 2011.
The band continued to write more crushing tunes that combine old school vibes with new school sensibilities. They have currently recorded their debut 'The Murders Of Wild goose Lodge' EP at the legendary Trackmix Studios near Dublin, which was realeased as part of the Irish Metal Archive's 'Forth To The Fight' split CD along with ÍWERIÚ, MAUSOLEUM and ZYLUM.
Counties
Antrim, Armagh, Louth
Genres
Death Metal, Death/Thrash
Members (Current)
Robert Ferguson - Vocals
Daniel Farrell - Guitars
Dominic McCartan - Guitars
Ben Rowe - Bass
Members (Former)
Paul - Bass
Gary Mallon - Drums