WIN: MCD GOLDEN TICKET…!!! – Paradise Lost, Obituary, Fear Factory…
Posted: 31/05/2023 by John O'Brien
COMPETITION TIME…!!!
With huge thanks to the fine folks over at MCD we have a 'GOLDEN TICKET' up for grabs which will give our lucky winner, plus a friend, the opportunity to attend up to FIVE SHOWS in Dublin…
We also have runner-up prizes of tickets to either PARADISE LOST (Dublin only), OBITUARY (Dublin/Limerick) or FEAR FACTORY (Dublin only).
To enter it's as simple as sending an email to…

(SORRY!!! COMP NOW CLOSED)

with "WIN GOLDEN TICKET" in the subject header along with your with your full name, email/phone contact and your runner-up preference in the email.
---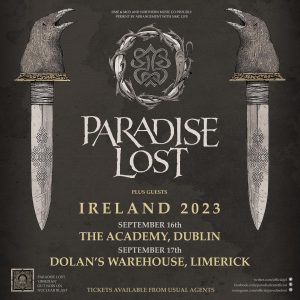 PARADISE LOST
Plus Special Guests
The Academy, Dublin, 16th September 2023
Dolan's Warehouse, Limerick, 17th September 2023

Tickets on sale Friday May 19th at 10am
Facebook / Twitter /  Website / Spotify
One of the most influential metal bands of the last 32 years; PARADISE LOST is set to headline The Academy on September 16th.
Formed in 1988 PARADISE LOST is one of the most resilient British metal bands. They are credited with being one of the main influences of the later gothic metal movement. They were among the trailblazers of the death-doom genre.
After releasing three cassette demos they were signed to Peaceville Records in 1989. They then recorded their debut album LostParadise which was released in 1990. As the band progressed they began incorporating new elements such as keyboard and female vocals. Always searching for new sounds the band effortlessly traversed through the sub-genres of metal
The Bands' 2017 and 2020 albums' The Plague Within' and Medusa saw them return to their roots. The albums were met with open arms by fans and solidified themselves as veterans from several generations of metalheads.
Facebook / Twitter /  Website / Spotify
---
Limelight 2, Belfast, 3rd September 2023
The Academy, Dublin, 4th September 2023
Dolan's Warehouse, Limerick, 5th September 2023

Tickets on sale Monday 22nd May at 10am
Instagram / Spotify/ Facebook / Website
Deemed one of the most influential bands in the development of death metal, OBITUARY formed in 1984 in Florida. Universally accepted as one of the most successful death metal bands they have just announced their headline show in The Academy, Dublin on September 4th 2023.
Founded as the EXECUTIONER but quickly changing their name to XECUTIONER the band released three demos. Making their vinyl debut in 1987 on the Raging Death compilation with the tracks "Find the Arise" and "Like the Dead." Shortly before the release of the bands first album Slowly We Rot they changed their name to OBITUARY. The band's 1992 album The End Complete which was released in 1992 became the band's first album to chart in the US and Europe.
In 1977 after they released their fifth studio album Back from the Dead, the group had grown tired of touring and disbanded. In 2003 the band reformed and was signed to Candlelight Records. Speaking of second chances, drummer Donald Tardy also founded Metal Meowlisha in 2006 which helps homeless cats on the streets of Tampa Florida.
Releasing their ninth studio album in 2014 Inked in Blood they were signed to Relapse Records and partnered with the label for the distribution of the album. In 2018 OBITUARY embarked on Slayers farewell tour along with Lamb of God and Anthrax.
After spending the pandemic working on new material, OBITUARY released "The Wrong Time" as the lead single from their eleventh studio album Dying of Everything which was released in January 2023.
Instagram / Spotify/ Facebook / Website
---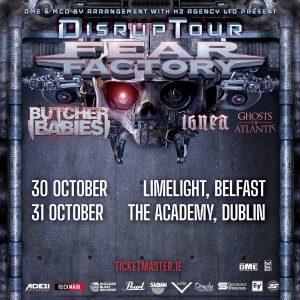 FEAR FACTORY
Plus Special Guests BUTCHER BABIES +more
The Limelight, Belfast 30th October 2023
The Academy, Dublin 31st October 2023
Tickets on sale 24th May 2023 at 10am
Instagram / Twitter / Facebook / Website
Formed in 1989 in Los Angeles, FEAR FACTORY has created a hypnotic spectacle for all who attend their gigs. FEAR FACTORY has just announced its headline gig at The Academy, Dublin on the 31st of October 2023. They will be joined by the Groove metal band Butcher Babies.
FEAR FACTORY are considered pioneers and metal veterans by lovers of all things heavy. The band's distinctive sound seamlessly traverses through many metal subgenres.
FEAR FACTORY toured with metal heavyweights including SLAYER, IRON MAIDEN, BLACK SABBATH, and METALLICA. FEAR FACTORY also took part in the Prince of Darkness's annual metal pilgrimage; Ozzfest three times. After a short breakup in 2002, the band made a triumphant return in January 2004 and toured with SLIPKNOT and LAMB OF GOD.
FEAR FACTORY's albums provide a listening experience of mechanical brutality. They emulate the echoing of the dystopian post-apocalyptic future. Their tenth studio album Aggression Continuum is the pinnacle of over 30 years of striking songs, persistent touring, and entertaining fans new and old.