Demo by Zom (Death Metal, 2011)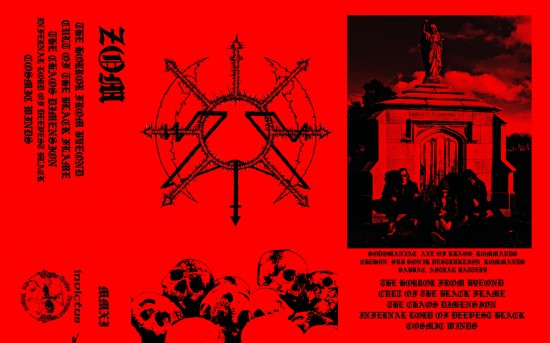 We're currently working on restoring the stream for this release. Please check back soon.
TRACK LISTING:
1. The Horror From Beyond
2. Cult Of The Black Flame
3. The Chaos Dimension
4. Infernal Lord Of Deepest Black
5. Cosmic Winds
6. Ethereal Frost (digital bonus track)
BUY/DOWNLOAD:  Bandcamp 
'Ethereal Frost' included as a bonus track on the digital download from Invictus Productions.
Three limited pressings were made with the colour scheme of the cover being different for each version…
1st press (29.12.2011) black artwork on red background.
2nd press (27.01.2012) red artwork on black background.
3rd press (07.03.2012) red artwork on white background.