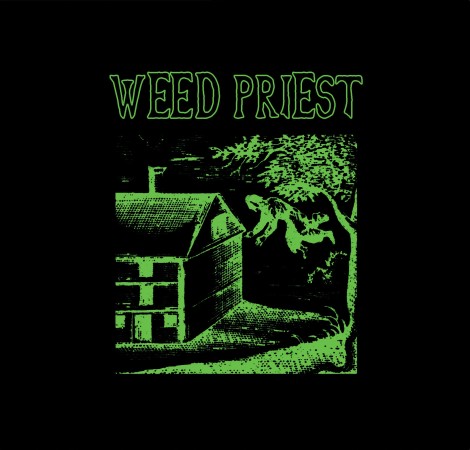 We're currently working on restoring the stream for this release. Please check back soon.
TRACK LISTING :
1. Final Spell
2. Erichtho
3. Walpurgia
4. Thy Kingdom Gone
5. Weed Priest
6. Day of Reckoning
Release Date: 25th February, 2013
BUY/DOWNLOAD:   Bandcamp 
Adrian Elatha – Drums
Ragas Walpurgis – Bass
Adam De Monlung – Guitars/Vox
Mixed by Z Goat.
Mastered by Wolfgang at Sound Ink.
Artwork by William 'the Elder' Faithorne.
Editor Notes:
I had the good fortune of catching these lads only last week (March 2013) here in Cork when they kicked off proceedings in Fred Zeppelins on Paddy's Night. They were the one band I really wanted to catch on the bill that also included local stalwarts FIVEWILLDIE and Tipperary's zhOra. The SLEEP and ELECTRIC WIZARD t-shirts adorned by the band as they stepped onstage perfectly summed up the imminent barrage of riffs that awaited the gathering crowd. And they certainly did not disappoint in reigning forth swathes of epic, down-tuned, occult themed Doom.
WEED PRIEST first came to my attention about two years ago when they released a rather simple looking 3-track demo CD. But on further inspection this was only the tip of the iceberg for them, with a whole host of other demo recordings available from them online. Most of these have since been revisited and recorded proper for this brilliant S/T debut album. The eerie artwork again with its clean and simple approach of green on black digi-wallet sets the tone of what's to come before even hearing a single note of mammoth opener 'Final Spell'. Dragging along at a near snails pace it drives home a powerful main riff that builds and recedes, while carrying the listener along completely oblivious to the passage of its near 13 minute length.
Some extra pace is added for the addictive 'Erichtho' incorporating a Classic/Stoner Rock groove to their already lead-weighted Sabbath riffs and rhythms. 'Walpurgia' is a little more restrained and even slips into Funeral Doom territory for the closing section. While the excellent 'Thy Kingdom Gone' is powered along by a fantastic bass groove, pounding drum rhythms and fuzzy infused guitars throughout. This really is such a brilliant track and without a doubt my favourite on the whole album.
A return to the slower Sludge/Doom of the opener is harkened by the eponymously titled 'Weed Priest'. The first of two massive funeral knells to close out the album. A slow riff worms its way out of the speakers and is soon accompanied by pounding and hypnotic drums which relentlessly pushes everything along as the track slowly evolves into an utterly monstrous beast with bile-fuelled vocals bellowed at you to firmly nail it all home. 'Day Of Reckoning' is the final 14 minute hypnotic dirge. Beginning with the always welcome sound of air-raid sirens (brings a smile to my face every time…), it pretty much sums up the whole album in one huge track. Taking in everything from slow drawn out Doom for the first half to yet more driving heavy rhythms and lead guitar patterns for the latter, ensuring that you WILL be reaching for the repeat button when the air-raid sirens return once again as the track fades out.
Even though the band use some effects to muddy their sound at times, the overall production is crisp and clear in almost total contrast with the rasping vocals utilized. And while the overall sound and style is a heavy Sludge/Doom, another contrasting point that works brilliantly is where the guitar leads and solos used are more classic rock and even grunge styled, along the lines of TEMPLE OF THE DOG or MAD SEASON only fuzzier and doomed to the hilt. Sounds odd! And I'm sure some will think "What the fuck is he on about?", but that's what comes to mind. More importantly, though! It just works.
Killer artwork! Killer tunes! Killer band!
WEED PRIEST is a must for Doomsters the world over.
The whole album as available to stream an buy from the WEED PRIEST bandcamp page. And thanks to Adam, Adrian and Ragas the monumental 'Day Of Reckoning' is also available for free download as part of the IRISH METAL ARCHIVE – "The First Wave…" Compilation album.