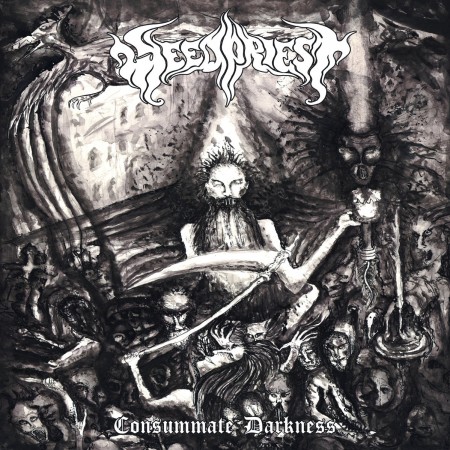 We're currently working on restoring the stream for this release. Please check back soon.
TRACK LISTING:
1. Witch's Curse
2. Vampyr
3. Sky Daddy
4. The Mass
Release Date: 31st  October, 2017.
BUY/DOWNLOAD:   Cursed Monk Records  –  WP Bandcamp 
Available as Ltd. Digipak CD (100) and Ltd. Black Vinyl (300).
Recorded and mixed at The Oaks studio by John Moffat.
Additional mixing by Kenneth Coyne.
Produced by Adomas Trakumas.
Mastered by Peter Montgomery at CHR Mastering.
Cover Art by Andrei Dzmitruk
Ceremonial readings on The Mass by Rev. Dreck
Shrieks on Witch's Curse by familiars S. and D.
Adamus de Sabbator – Guitar, Vox
K.H. Rhaagulus – Bass
Sean "The Tormentor" Sullivan – Guitar
Migorr – Drums