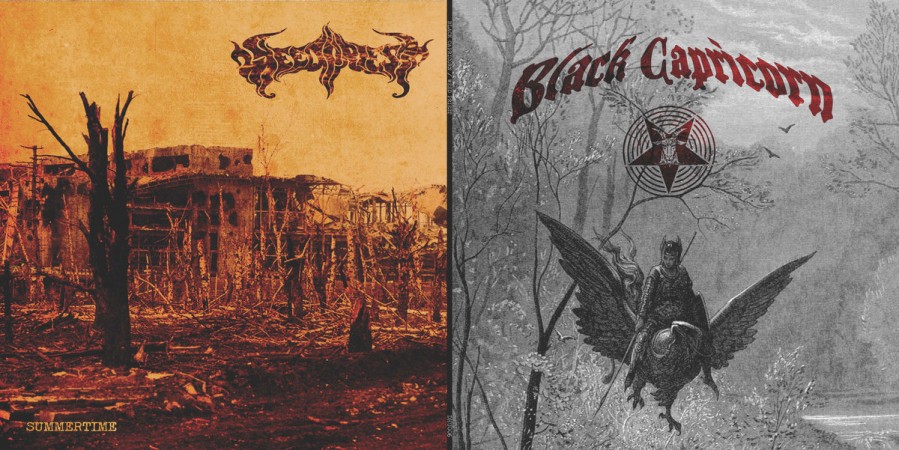 We're currently working on restoring the stream for this release. Please check back soon.
BAND/TRACK LISTING:
01. WEED PRIEST – Summertime
02. BLACK CAPRICORN – Zeernebooch
03. BLACK CAPRICORN – March to Alnitak
Available on Vinyl from 30th of September 2016 at DHU Records.
Pre-Orders available now…
---
'SUMMERTIME'
Composed by George Gershwin and DuBose Heyward in 1934.
Re-imagined by Weed Priest in 2014.
Recorded and mixed by Alan 'Batman' Hanlon.
Mastered by Tony Reed.
Special thanks to Donal 'Dubdoctor' Finn.
WEED PRIEST:
Adamus de Sabbator – vocals, guitars
K.H. Rhaagulus – bass
Sean 'The Tormentor' Sullivan – guitars
Mígorr – drums
feat. Cathal Hughes on vocals
---
DHU TEST PRESS…
✠Limited to 10 copies
✠Hand stamped & hand numbered
✠Comes in a single black cardboard sleeve with 3mm spine
DHU EXCLUSIVE EDITION…
✠Limited to 90 copies
✠Comes in a single sleeve with 3mm spine with front cover and back cover plus double sided inlay
✠Comes on Oxblood, Mustard and Grey Tri Color 12″ Vinyl
WEED PRIEST EDITION…
✠Limited to 100 copies
✠Comes in a single sleeve with 3mm spine with front cover and back cover plus double sided inlay
✠Comes on Mustard Yellow w/ Oxblood Splatter 12″ Vinyl
BLACK CAPRICORN EDITION…
✠Limited to 100 copies
✠Comes in a single sleeve with 3mm spine with front cover and back cover plus double sided inlay
✠Comes on Oxblood w/ Heavy Grey Splatter 12″ Vinyl