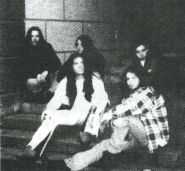 TRACK LISTING ;
1. Thy Temperate Veil / A Vanity Loss
2. Splendoured Flights / Gather Like Swine
3. Precious Heart's Grandstone / Oh Blindness
Extremely rough live desk recording (cassette transfer) of the debut gig. As described by one drunken punter: "too slow for doom", so we slowed down everything weeks later!
Jeff O'Reilly – Bass
Bren Mullen – Drums
Cory Sloan – Vocals
Robin Bailey – Guitar