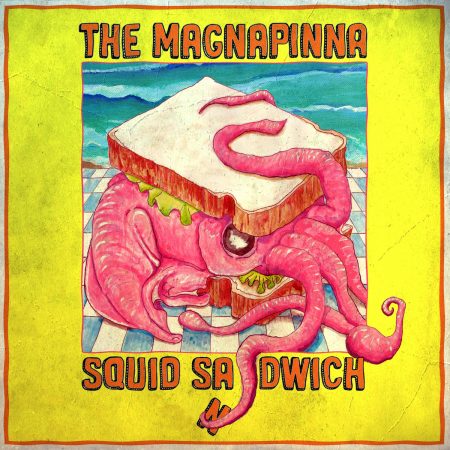 We're currently working on restoring the stream for this release. Please check back soon.
TRACK LISTING:
1. God Hates a Coward
2. Two Steps Ahead
3. Sleeping
4. I Kennedy (Live)
5. Surfs Up baby (Live)
6. Uniform (Live)
7. Cowboy Disco (Live)
Released Date:  5th  July, 2020 
BUY/DOWNLAOD:  Bandcamp  
Recorded by The Magnapinna.
Locations: Cobh, Coolock, Coomkeen, Passage West.
Mixed & Mastered by Ed Grannell at the G-Unit studio, Dublin.
Players: C Carley, D Howard, Mr. E Blunden, J Grannell, E Grannell, M Jordan.
Live Tracks recorded at Drop Dead Twice, Dublin by Alan "Batman" Hanlon, Feb 21st 2020.
---
"Squid Sandwich" is a collection of B-side and live material leading up to the Corona virus lock-down in Ireland.
We had just completed a full length recording in January before things took a turn and placed us all in the most alien of situations. We played our last show in Dublin on Feb 21st, and thankfully we had the presence of mind to record the audio of the performance. All the live cuts are from this Dublin show, with thanks to Alan 'Batman' Hanlon. They feature a choice cut from the upcoming full length in 'I Kennedy' along with a generous squirting of our favourite live tunes.
During lock-down, we figured out how to record and share ideas through file sharing and Zoom gatherings. We each learned how to operate various recording software to achieve a somewhat decent return for our efforts. Stuck and fucked by the pandemic, the notion to release something in that period arrived quickly. Mostly to fill a giant jamming sized hole and to compensate for the fact that we were so far apart in disparate parts of the country. The GHAC Tomahawk cover was something we had been toying with during rehearsals, so it made sense to use it as a sacrificial lamb of sorts to see what we could achieve remotely.
Mr.E. Blunden sent basic drum patterns to Mr. Howard by using an old beaten down midi kit and I used EZDrummer to program and flesh out the beats. We recorded guitars and bass remotely, utilizing all sorts of DIY recording chambers to get something approaching a full band sound.
Vox were done through various means, a lot of what you hear were recorded through the mic on a mobile phone. We had already been jamming the songs pre-Covid, so arranging them was quick and to the point. It was a unique and fun experience at the time. The world was burning and we had our heads in cupboards under duvets screaming vocals into a soft toy arrangement. It became apparent very quickly that we needed someone to pull focus and structure our communication dramatically.
A couple of weeks using Reaper definitely doesn't make you a good sound engineer, and the volume of ideas that were coming through were simply impossible to keep up with, structuring an eight minute doom ballad featuring an upbeat reggae outro proved to be very challenging, it wasn't easy containing those ideas.
We eventually had an sound engineer in Dublin (E. Grannell – Slacker's Symphony) take the reigns and direct us a little bit before he mixed and mastered the results. Effectively, he acted as a remote producer. He also performed the soaring chorus vocals on God Hates a Coward. Simply put, he made the sandwich edible.
Thankfully, we now have access to the album mixes from early 2020 and the whole effort throughout lock-down with "Squid Sandwich" feels like it was necessary step and worth the effort.  Our focus is now back to where it was, and that's to deliver a full length studio recording that will turn heads and move the air around your face."