Stained Glass Blasphemy by Syphor (Death Metal, 2011)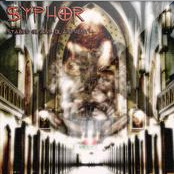 We're currently working on restoring the stream for this release. Please check back soon.
TRACK LISTING:
1. Zombie Moon
2. War
3. All Our Might
4. Know My Name
5. Loss Of Faith Divine
6. Darkness
7. Sentenced To Rot
8. God Fearing Lunatic
9. Into The Grace Of Death
————————–
10. War (Live)
11. All Our Might (Live)
12. Know My Name (Live)
13. Loss Of Faith Devine (Live)
Tracks 10-13 are live bonus tracks on the 2012 re-issue.
BUY/DOWNLOAD:  Bandcamp