A Tribute To Skinny by Coldwar (Death Metal, 2010)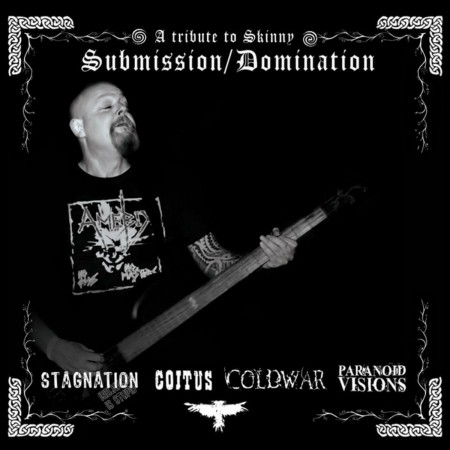 TRACK LISTING;
01. PARANOID VISIONS – The Bombsong
02. PARANOID VISIONS – Don't Vote For Freedom
03. PARANOID VISIONS – Something More
04. COITUS – Submission / Domination
05. COITUS – On Course To Nowhere
06. COITUS – Real Cold Fear
07. COITUS – Darkness On The Streets
08. COITUS – Total Collapse
09. COITUS – Mind Right?
10. STAGNATION – Cold Reign Turns To Snow
11. STAGNATION – Songs Of Praise
12. STAGNATION – Global Insanity
13. STAGNATION – No Exit
14. COLDWAR – Domination
15. COLDWAR – Obliterate/Coldwar
16. COLDWAR – War Rising
17. COLDWAR – Void Eclipse
18. COLDWAR – Preaching To The Perverted
19. COLDWAR – In Rapture
BUY CD/DOWNLOAD:  Underground Movement
Skinny passed away in November of 2009, this CD is dedicated to his 25 year bass rumbling with tracks from the bands he played in over the years such as PARANOID VISIONS in the early 80's, COITUS in the early 90's, STAGNATION from the mid to late 90's and COLDWAR from the turn of the century till his untimely passing in 2009.
Featuring tracks from all the bands Skinny played in over the last 25 years, spanning straight up street Punk to Crust and crushing Death Metal. Also includes a unreleased demo track from COLDWAR which was the last recording of Skinny doing vocals before his passing in November of 2009.
All Skinny ever wanted to do was make a nasty fucking racket, he will be sorely missed by all who new him.
Paul "Skinny" Kelly 1966-2009