In Fixation, Conspire by Stand-Up Guy (Post Rock/Metal, 2004)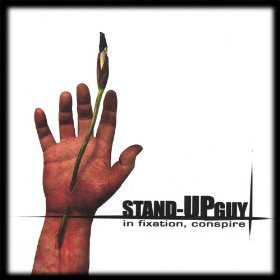 We're currently working on restoring the stream for this release. Please check back soon.
TRACK LISTING;
1. Fra Diavalo
2. Burning Paper in Bleeding Hand
3. Briefcase Opening
4. The Constant Gossip of the Workplace    
5. Pinstripe
6. The Controlling Interest
7. Swandive
8. Resonance Collapse
9. Longstoryshort
Release Date: 2004 
DOWNLOAD:  Bandcamp  
(Thanks a million to Ian Booth for giving me permission to add this release to the Archive)
Produced by STAND-IP GUY, Joe Goudie & Will McConnell.
Engineered by Joe Goudie & Will McConnell.
Additional Engineering by Rocky O'Reilly.
Mixed by Will McConnell & STAND-IP GUY.
Recorded, Mixed & Mastered at One Zero Zero Productions.
Artwork & Design by Paul McCarroll @ Unhinged Art.
Phil Donnelly – Bass
Paul McClure – Guitars / Vocals
Ian Booth – Guitars / Vocals
Chris Mitchell – Drums