Nascency by Scylla (Black Metal, 2013)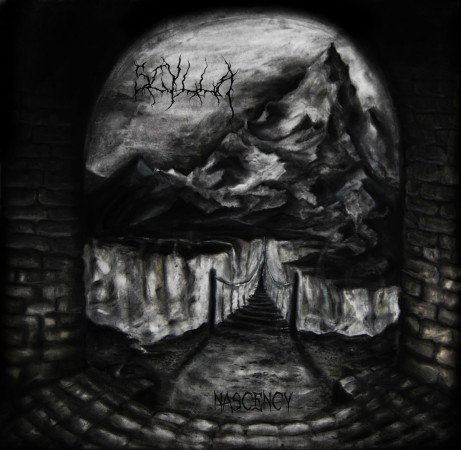 We're currently working on restoring the stream for this release. Please check back soon.
TRACK LISTING:
1. What Dwells Beneath
2. Lamia
3. Nascency
4. Apocalypse
5. Purgatory
6. Martyring Of An Angel
7. Death Of The Sun
8. Iblees (Nascency Part II)
9. Birthing Of A Bastard
Release Date:  10th April, 2013
BUY/DOWNLOAD:  SCYLLA Bandcamp  –  Depressive Illusion Records  –  Satanica Productions   

Re-released in 2014 on CD through Depressive Illusions Records and Satanica Productions.
Tape release by Wulfrune Worxxx Records (available from Depressive Illusions Records)
Remastered and re-released online in late 2013.
Recorded by Marti Dineen at KDYS Studios, Tralee, Co. Kerry, Ireland
Mixed and Mastered by Sohaib Syed
Band Logo by Morkner
Artwork by Jack Lucey
Sohaib Syed – Drums/ Backing Vocals/Music/Lyrics
Hassan Ali – Guitars/Vocals
Jack-Regan Kirwan – Guitars
Jack Lucey – Guitars
Dusko Kovac – Bass