Madness To Our Method by Scavenger (Heavy Metal, 2004)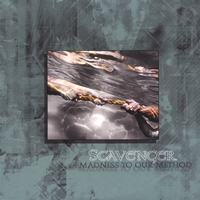 We're currently working on restoring the stream for this release. Please check back soon.
TRACK LISTING ;
1. On The Outside
2. Storm Warning
3. Ethereal Journey
4. Prisoner Of Time
5. [Untitled Instrumental]
6. Unstoppable Motion
7. Daydreams In Dystopia
Big thanks to Johnny Kerr and Peter Dunne for allowing me to put all of SCAVENGER's music up here for everyone to check out.
And to Brian 'Scobes' Taube at SENTINEL for giving the nod to allow the 'Madness..' album be put up for download. Not the first dig-out he's given me with the blog.
Recorded at Fatdog Studios, Co. Meath in March 2003 and released early 2004.
Original mix by Boris O'Shea at Fatdog Studios.
Re-mixed and mastered by Stuart Anstis (CRADLE OF FILTH) at SoundCage UK for the official SENTINEL CD release.
Vocals – Peter Dunne (Disposible Sex Toys, Disorder)
Bass – Niall Cooney (Disposible Sex Toys, Disorder)
Guitar – Noel Maher (Disposible Sex Toys, Disorder)
Drums – Johnny Kerr (Fuckhammer, Dyslucsic, Two Tales Of Woe, Cisco Pike, Granite)