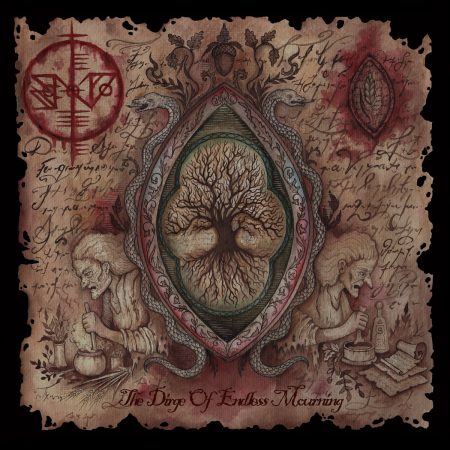 We're currently working on restoring the stream for this release. Please check back soon.
TRACK LISTING:
1. The Maligner's Tongue
2. Misery Beyond Time
3. Ochón
4. Remnant Understanding
Release Date: 30th January, 2020
Buy/Download: SnD Bandcamp – Vendetta Records 
Recorded at Station Studios Balbriggan during Meitheamh MMXIX
Mastered by Colin Marston at The Thousand Cave Studios
Artwork by Luciana Nedelea Artworks Transylvania
Session drums recorded by Tom Woodlock
All music and lyrics by Cathal Hughes
Editor Notes:
The stories of old Ireland have suffered throughout their long lives. Often misrepresented or misunderstood, the truth often lies not far beneath the murk that hides it.
"The Dirge of Endless Mourning" explores this relationship between the shallow, often twisted portrayal of Irish folklore and the true inspiration behind the tales through figures such as Biddy Early, a wise woman and healer, continually denounced and ostracized by the local clergy as an associate of evil. The forlorn and sorrowful Bean Sídhe, a cursed soul doomed to mourn eternally, widely regarded as a figured to be feared, not pitied. An Cailleach Béara, forgotten by time and people, a once great deity reduced to squalor and despair.
We live in the shadow of these tales, may they come tearing through the pages.