Nematoid: Speciman Parts I​-IV by Scald (, 1999)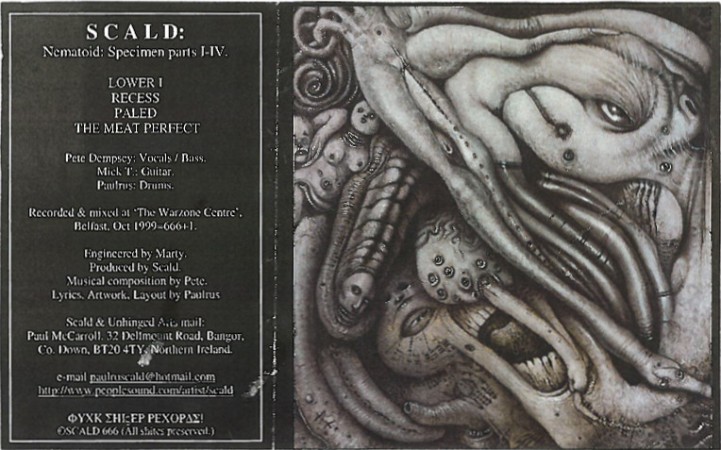 We're currently working on restoring the stream for this release. Please check back soon.
TRACK LISTING ;
1. Lower I
2. Recess
3. Paled
4. The Meat Perfect
……………………………………………………….
4 Pulse emitters. rt: 23:34.
Recorded & mixed at 'The Warzone Centre', Belfast, Oct 1999=666+1.
Genetically engineered by Marty.
Productive exacerbation by Scald.
Sonic discomposure excretion by Pete.
Literary execration & image configuration by Paulrus.
October 1999. Quadpiece era output. Premier section of intended 'Nematoid' album. Animated for promotional purposes while awaiting label reaction / malfunction process. Forged at the WZC / Belfast again with Marty. This journey produced the ultra-weighty backspeed sludge grind half of the experiment.
………………………………………………………………………………..
Bass/Vocals – Pete Dempsey (Crisistianity, T.V.P.)
Guitar – Mick Tierney (Bleeding Rectum)
Paul 'Paulrus' McCarroll – Drums (Crisistianity, T.V.P.)