Rites EP by Rites (Doom Metal, 2011)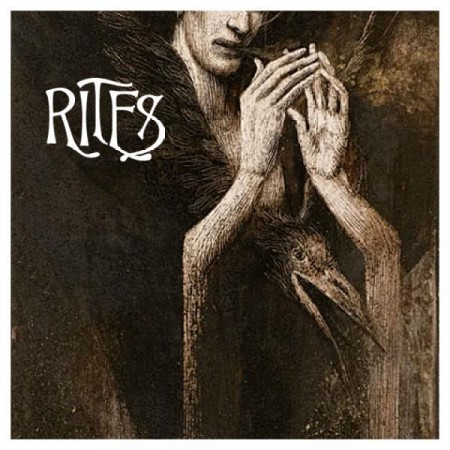 We're currently working on restoring the stream for this release. Please check back soon.
TRACK LISTING :
1.Intro
2. Vessel
3. Plastic Lung
4. Forging
5. Iron Shrimp
FREE DOWNLOAD:  Bandcamp 
Released as a 12″ record in June 2011. Recorded, mixed and mastered at the Hive Studios, Wicklow with James Eager in August 2010.
Album artwork by Santiago Caruso.
Guitar/Vocals – Kieran Griffin
Bass – Nicola Cosgrove
Guitar – Bryan Higgins
Drums – Rory Mooney
Editor Notes:
Galway's RITES have been steadily beavering away at this 12" vinyl EP for the last while. Keeping quiet for the most part but slowly building up momentum for the release which has now finally seen the light of day with a string of shows taking place around the country to launch it.
You could probably mention any stoner/sludge/doom band for comparison as they all pretty much follow the same formula. The old motto of "If it ain't broke, then don't fix it" comes to mind. But as with many band in this genre it helps to add a piece of your own into the pot also! Which it seems RITES are definitely trying to achieve. Vocals can sound a bit Hardcore at times, but they don't seem out of place and give a rough edge to the tracks. Kicking things off nicely with 'Intro' and its foot-tapping, head nodding riffs chugging along at a steady pace before quickly making way for one of the EPs stand-out tracks, 'Vessel' with its slow start that launches into another steady machine of chugging riffs. Another great track 'Plastic Lung' follows, keeping to the low end of things for its duration as it builds into trudging doom behemoth. At nearly eight minutes it can be an arduous but ultimately rewarding listen.
It's a pretty bold, or brave, move depending on your view to make your debut self-release on 12" vinyl. One that could make or break a band if they don't give it the correct attention it deserves. Thankfully for RITES they've taken their time. The music for this EP was recorded almost a year ago. So! Why the wait? Probably had a bit to do with the format they decided to use. Certainly not as cheap and easy as a regular CD release. Plus there's the cover art to consider, which really needs to be something a bit special. They used a painting called 'Sandman' by Santiago Caruso and really sets the tone for the music that accompanies it. RITES have certainly managed to pull it off an all fronts.