Rites
Doom Metal / Co. Galway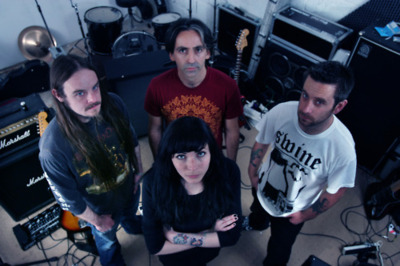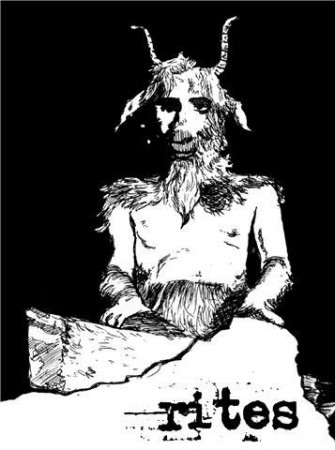 Links
Kieran Griffin and Nicola Cosgrove originally founded RITES back in November 2009. Kieran had a few song ideas for a doom style project, mentioned it to Nicola and there you go. RITES was formed.
They could have easily released their new EP a while back, but decided to bide their time, sort out their line-up and also opted to go for an ambitious 12″ vinyl release. A move that has hopefully paid off for them. The whole package is excellently presented with the cover art from a painting called 'Sandman' by Santiago Caruso and really sets the tone for the music that accompanies it.
They play a fairly standard style of stoner/sludge/doom. And they play it well. The songs are well written, performed and recorded. A great EP to throw on while you kick back or even just get about your business to. The vocals sound a bit hardcore at times which gives a bit of an edge to the music. Check it out on the player below.
They also recorded two tracks with James Eager at The Hive studios. The first 'Barren' is to be released as part of the 'Hell Comes Home' Subscription Club and  will be a split 7″ with another band called DUKALATON.
"Running for 6 months from October '11 => March '12 consecutively, each subscription will receive two new split 7-inch vinyl with new and original artwork in the post every month… And because life is good the first package will include an exclusive t-shirt along with a special limited edition box to complete the set."
The second 'Forest Alter' which is due to be released on a 4-Way split with three other Irish bands. Although this is all dependent on whether the other bands deliver the goods for the release. Info is a little thin on this at the moment, but as soon as there are any more developments on this I'll be sure to post it up here.
The band have made both of these new tracks available to stream from their Soundcloud site. And their debut 12″ 'Rites EP' s still available to buy and again can be streamed in full from their Soundcloud site. They have also made the EP's tracks available for FREE download through their Bandcamp. So give it a listen. And if you like it…BUY IT from their Bigcartel site!
Genres
Doom Metal, Sludge Doom, Stoner Doom
Members (Current)
Kieran Griffin - Guitar/Vocals
Nicola Cosgrove - Bass
Bryan Higgins - Guitar
David Mahony - Drums
Members (Former)
Darren McGough - Drums
Rory Mooney - Drums
Tom Delaney - Drums